Global Positioning Systems (GPS)
Differential GPS Receiver Board offers sub-meter accuracy.
Press Release Summary: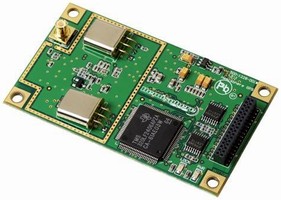 Built with Crescent OEM board dimensions, LX-1 is designed for OEMs looking to augment Crescent® GPS with OmniSTAR differential capability. It tracks L-Band differential signal corrections, through OmniSTAR, to improve stand-alone GPS solutions. While solution automatically tracks best available satellite broadcast, user can also manually set which satellite to track. Board is supported by Hemisphere GPS' COAST(TM) technology for accuracy during temporary signal loss.
---
Original Press Release:

Hemisphere GPS Targets OEM Market with LX-1 Board for Crescent® GPS Receivers



Calgary, AB - May 9, 2007 (TSX: CSY) Hemisphere GPS, a designer and manufacturer of GPS products used in more than 50 countries, today introduced the LX-1, a new L-Band (OmniSTAR compatible) differential GPS (DGPS) receiver board. The LX-1 improves position accuracy of Hemisphere GPS' Crescent® Receiver Technology to sub-meter measurement. This new solution is just one of many differential options offered by Hemisphere GPS.

Hemisphere GPS' LX-1 tracks L-Band differential signal corrections (through OmniSTAR) to improve stand-alone GPS solutions. It provides a reliable differential GPS option, as OmniSTAR satellite corrections are available on most land areas of the world.

The LX-1 includes subscriber access, so OmniSTAR can activate subscriptions remotely via satellite uplink. While it automatically tracks the best available satellite broadcast, the user also has the option to manually set which satellite to track. Additionally, the LX-1 is supported by Hemisphere GPS' exclusive COAST(TM) technology to ensure accuracy is maintained during temporary loss of the differential signal.

Hemisphere GPS' LX-1 is designed for use by Original Equipment Manufacturers (OEM) that want to augment Crescent GPS with OmniSTAR differential capability. It is the same size as Crescent OEM boards and directly compatible for convenient integration. Hemisphere GPS has currently integrated this new technology into several Crescent receiver models, such as the R120, R121, and R130 DGPS receivers.

"Our new LX-1 Board provides increased access to differential signals and improves the accuracy of our Crescent GPS receivers," said Steven Koles, President and CEO of Hemisphere GPS. "This additional differential solution further enables accurate and reliable GPS positioning particularly in regions where other differential signals are not currently accessible. This is another example of Hemisphere GPS' ability to quickly develop and implement a variety of GPS solutions, which has been key to the success of our company."

About Hemisphere GPS and CSI Wireless

Hemisphere GPS, a division of CSI Wireless Inc., designs and manufactures innovative, cost-effective GPS products for positioning, guidance and machine control applications in agriculture, marine and other markets. The Company owns leading brand names, numerous patents and other intellectual property. The Company's head office is in Calgary, Alberta, and it has major product development and sales and marketing facilities in Arizona, Kansas and Texas. For more information about Hemisphere GPS and CSI Wireless, go to www.hemispheregps.com and www.csi-wireless.com.

For more information, please contact:

John Bohlke
Product Marketing Manager
Hemisphere GPS
Phone: (480) 348-9919
E-mail: JBohlke@hemispheregps.com
www.hemispheregps.com

More from Machinery & Machining Tools