Differential Amplifier offers 3 GHz gain bandwidth.
Press Release Summary: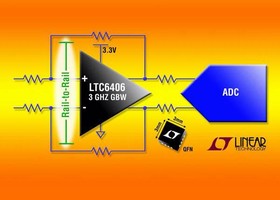 Model LTC6406 fully differential ADC driver features rail-to-rail input stage and independently adjustable output common mode range. Operating on supplies from 2.7-3.5 V, device features differential outputs that each swing from near ground to 2 V. It achieves 90 dBc distortion for input frequencies from DC to 20 MHz and nearby -70 dBc distortion from DC to 50 MHz. Current consumption is 18 mA which can be reduced to 300 µA during periods of inactivity.
---
Original Press Release:

Rail-to-Rail Input 3 GHz Fully Differential ADC Driver



MILPITAS, CA - September 10, 2007 - Linear Technology announces the LTC6406, a
high-speed with low power ADC driver, low distortion and noise. It features a rail-to-rail input stage and an independently adjustable output common mode range. Using a single 3V supply, the LTC6406's differential outputs each swing from near ground to 2V. As a result, this amplifier is ideal for level shifting signals to match the input range of 12-bit to 16-bit single supply differential input ADCs.

The LTC6406 is built for speed, performance and power efficiency. Its gain-bandwidth product is 3GHz, and its unity gain -3dB bandwidth is 800MHz. The LTC6406 achieves -90dBc distortion performance for input frequencies from DC to 20MHz, and nearby -70dBc distortion performance from DC to 50MHz. Noise is just 1.6nV v√Hz. Operating on supplies from 2.7V to 3.5V, the LTC6406 is fully specified at 3V. This allows the amplifier to share the power supply used by many ADCs. Current consumption is just 18mA, which can be reduced to 300uA during periods of inactivity by use of a shutdown feature.

"The LTC6406 achieves excellent dynamic performance with low power consumption," says Kris Lokere, Design Manager at Linear Technology. "Its patent-pending rail-to-rail input stage simplifies the task of translating a ground-referenced or supply-referenced signal to the input range of popular high speed ADCs such as the LTC2206.

The LTC6406 is available in a 3mm x 3mm 16-lead QFN package in both commercial (0°C to 70°C) and industrial (-40°C to 85°C) temperature ranges. Pricing starts at $3.44 per unit in 1,000 piece quantities.

Summary of Features: LTC6406

o Low Noise: 1.6nV/v√Hz RTI
o Low Power: 18mA at 3V
o Low Distortion (HD2/HD3):
o -80dBc/-69dBc at 50MHz, 2VP-P
o -104dBc/-90dBc at 20MHz, 2VP-P
o Rail-to-Rail Differential Input
o Fully Differential Input and Output
o Adjustable Output Common Mode Voltage
o Gain-Bandwidth Product: 3GHz
o 800MHz -3dB Bandwidth with Av = 1
o 2.7V to 3.5V Supply Voltage Range
o Low Power Shutdown
o Available in Tiny 16-Lead 3mm x 3mm x 0.75mm QFN Package

About Linear Technology
Linear Technology Corporation, a manufacturer of high performance linear integrated circuits, was founded in 1981, became a public company in 1986 and joined the S&P 500 index of major public companies in 2000. Linear Technology products include high performance amplifiers, comparators, voltage references, monolithic filters, linear regulators, DC-DC converters, battery chargers, data converters, communications interface circuits, RF signal conditioning circuits, and many other analog functions. Applications for Linear Technology's high performance circuits include telecommunications, cellular telephones, networking products such as optical switches, notebook and desktop computers, computer peripherals, video/multimedia, industrial instrumentation, security monitoring devices, high-end consumer products such as digital cameras and MP3 players, complex medical devices, automotive electronics, factory automation, process control, and military and space systems. For more information, visit www.linear.com

LT, LTC, LTM and are registered trademarks of Linear Technology Corp.


More from Agricultural & Farming Products