Diesel Generator Set provides 2.7 MW of power.
Press Release Summary: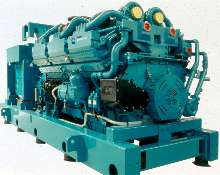 PowerCommand® 2.7 MW, 1800 rpm generator set, for utility peaking and distributed generation, as well as standby applications, is available for either 60 Hz or 50 Hz operation. Units can be upfitted with selective catalytic reduction option. Major components include QSK 78 L diesel engine, alternator, and digital control system. The 3740 hp, 18-cylinder, turbocharged engine features technologies to meet EPA Tier 1 off-road emissions regulations.
---
Original Press Release:
Cummins Power Generation Introduces the World's Most Powerful Production Diesel Generator Set
MINNEAPOLIS - Cummins Power Generation has introduced a new PowerCommand® 2.7 MW generator set that is the world's most powerful production diesel generator set. While optimized for utility peaking and distributed generation using multiple units, the new 1800 rpm generator set can also be used for large standby applications. For extended operation in environmentally sensitive locations, the new PowerCommand 2.7 MW generator set can be upfitted with a selective catalytic reduction (SCR) aftertreatment option. Models are available for either 60 Hz or 50 Hz operation, and can be enclosed in a standard ISO high-cube configuration container. "With the introduction of the PowerCommand 2.7 MW generator set, utilities and other power producers now have a larger power block available that is also a standard production generator set," says Peter Hartzell, Executive Director for Global Marketing, Cummins Power Generation. "As a standard Cummins product, the new PowerCommand 2.7 MW generator set will be readily available and competitively priced on an installed kW basis. It will feature full factory testing and the high reliability you would expect from a production generator set. It also results in power systems that can be installed and commissioned in less time." The major components of the PowerCommand 2.7 MW generator set - the QSK 78 liter diesel engine, the alternator and PowerCommand digital control system - are all proven in thousands of hours of testing and industrial applications. The 3740 horsepower, 18-cylinder, turbocharged engine features advanced technologies to meet EPA Tier 1 off-road emissions regulations, such as a high-pressure (HPI-PT) full-authority electronic fuel system, cast iron pistons and low temperature after-cooling. The HPI-PT fuel system features an open nozzle design that produces a "soft" start to injection that lowers combustion noise. It also has infinitely variable injection timing which allows emissions and fuel economy to be optimized. Environmentally, the PowerCommand 2.7 MW generator set is one of the cleanest large diesel engine generators available today. Producing less than 6.9 g/bhp-hr of nitrogen oxides (NOx) and 0.5 g/bhp-hr of particulate matter (PM), the generator set meets current EPA Tier 1 off-road standards in effect until 2006. An optional low-emissions model will be available that produces just 5.5 g/bhp-hr NOx with a slightly derated power output. When upfitted with SCR, NOx emissions can be reduced an additional 90%, making the PowerCommand 2.7 MW generator set suitable for high-hour operation in some of the most environmentally sensitive locations. The Smart Starting feature minimizes the amount of white smoke on cold startup, and with an opacity rating of less than Bosch 1, virtually no visible smoke is produced across the load range during operation. The PowerCommand integrated digital control system is the most advanced engine-generator management system available today. The PowerCommand control manages all engine and alternator control and protection functions, and performs seamless utility paralleling and synchronization. With integrated LonWorks® network access, it easy to manage remote monitoring, power dispatching and control. Already proven in utility paralleling applications of up to 100 MW and more involving multiple generator sets, PowerCommand provides easy dispatching, synchronizing, controlling and monitoring. "Diesel generators have numerous attributes which make them well-suited to a variety of power applications," says Hartzell. "As a mature technology, diesel is exceptionally rugged and reliable. Diesel generators require minimal maintenance and tend to average 20,000 - 30,000 hours between major overhauls. Their fast starting and load acceptance, load-following and load-pickup abilities are superior to many other generation technologies, making them ideal for peaking, distributed generation and standby applications." The PowerCommand 2.7 MW generator set features optional technologies to reduce routine maintenance such as the Cummins Eliminator(TM) oil purification system and Centinel(TM) continuous oil replacement system. With these two innovations, engine service intervals can be reduced to once every 2,000 hours and oil changes can be extended to once every 4,000 hours. These devices significantly increase productivity and reduce costs and downtime over the life of the generator set. Cummins Power Generation is a world leader in the design and manufacture of pre-integrated PowerCommand generator sets, transfer switches, paralleling equipment, and controls for use in standby and prime rated systems. For more information, contact Cummins Power Generation, 1400 73rd Ave. NE, Minneapolis, MN, 55432. Phone: 763-574-5000; Fax 763-574-5298. Or visit the web site at www.cumminspower.com.
More from Electrical Equipment & Systems