Diesel Engine Oil meets API CJ-4 specifications.
Press Release Summary: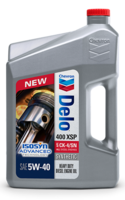 Suited for pre- and post-2007 heavy duty diesel engines and light duty diesel pick-up trucks, Delo® 400 LE Synthetic SAE 5W-40 is formulated using optimal blend of dispersant, detergent, oxidation inhibition, antiwear, corrosion inhibition, viscosity improver, and defoaming additive technologies. It offers cold startup capabilities, and meets or exceeds all major API, ACEA, and diesel engine manufacturer's requirements.
---
Original Press Release:
Delo® Adds New CJ-4 Heavy Duty Diesel Engine Oil
Delo® 400 LE Synthetic SAE 5W-40 Creates Comprehensive Engine Oil Portfolio SAN RAMON, CALIF., October 30, 2008 - Chevron's Delo brand of technologically advanced engine oils, lubricants and coolants, has introduced the newest member of its product family, Delo® 400 LE Synthetic SAE 5W-40. The new Delo 400 LE is a 100 percent synthetic engine oil which exceeds industry and engine manufacturers' performance requirements. The product is formulated using an optimal blend of the latest dispersant, detergent, oxidation inhibition, antiwear, corrosion inhibition, viscosity improver and defoaming additive technologies. Delo 400 LE Synthetic SAE 5W-40 is specifically formulated for outstanding performance in pre- and post-2007 heavy duty diesel engines and light duty diesel pick-up trucks. The new product offers excellent cold startup capabilities and potential for improved fuel economy especially when used in combination with the full Delo product portfolio. It is fully backwards compatible with previous API categories and is positioned as a premium product in The Delo® Performance Advantage(TM) platform. "With the addition of our new Delo 400 LE Synthetic, Chevron has further expanded its advanced line of Delo lubricants, creating a comprehensive offering of CJ-4 compliant heavy duty engine oils," said Nicole Fujishige, indirect channel marketing manager, Chevron Products Company. "By offering such a full line of lubricants, we allow our customers to select the best products for their operating environments and bottom line needs. The new Delo 400 LE Synthetic is another way for our customers to benefit from the advanced technology and market expertise that mark the Delo Performance Advantage." Delo 400 LE Synthetic SAE 5W-40 is the third member of the Delo family to meet the API CJ-4 engine oil specification. Delo® 400 LE SAE 15W-40 and Delo® 400 LE SAE 10W-30, which also meet API CJ-4, were introduced in October of 2006 and April of 2008, respectively. Availability Delo 400 LE Synthetic SAE 5W-40 will be available to order September 30th in gallon jugs, five gallon pails and 55 gallon drums. The new product will be available in both the United States and Canada. Contact your local Chevron lubricant marketer for more information. Meeting Requirements Delo 400 LE Synthetic SAE 5W-40 meets or exceeds all major API, ACEA and diesel engine manufacturer's requirements, including: API Service Categories CJ-4, CI-4 PLUS, CI-4, CH-4, CG-4, SM ACEA European Service Categories E-7 Caterpillar ECF-3, ECF-2 Cummins CES 20081 Detroit Diesel Corp. Power Guard Oil Specification 93K218, 93K215, 93K214 MB-Approval 228.31 Mack EO-O Premium Plus 07 Volvo VDS-4 Renault RLD-3 MTU Category 1 Delo 400 LE Synthetic Benefits can include: Increased corrosion and wear protection for cylinders, pistons, rings, bearings and injectors Reduced valve and piston crown deposits Reduced oil consumption Improved combustion pressure Enhanced emission control system life Reduced inventory costs Improved fuel economy Chevron's Delo Product Family Chevron's Delo product family includes lubricants and coolants that provide premium protection, performance and bottom-line value for on- and off-road diesel-powered equipment. Delo products are found in all major industries such as commercial transportation, construction, mining, agriculture, and power generation. All Delo products are covered under the Delo Warranty Plus program, which provides bumper-to-bumper protection against lubricant and coolant related failures as described in the Delo warranty. The Delo family contains a full line of engine oils, including Delo® 400 LE Multigrade SAE 15W-40 and 10W-30 (CJ-4), Delo® 400 LE Synthetic SAE 5W-40 (CJ-4), Delo® 400 Multigrade SAE 15W-40 (CI-4 PLUS) and Delo® 400 Synthetic 0W-30. Rounding out the complete line of Delo products are Delo® Extended Life Coolant, Delo® Extended Life Coolant/Antifreeze - Nitrite Free, Delo® Greases EP, Delo® Heavy Duty EP, Delo® Synthetic Grease SF, Delo Synthetic Transmission Fluid SAE 50, Delo® Gear Lubricants ESI® and Chevron Delo® Synthetic Gear. More information on Delo products can be found at: www.DeloPerformance.com About Chevron Products Company Chevron Products Company is a division of a wholly owned subsidiary of the Chevron Corporation. A full line of lubrication and coolant products are marketed through this organization under the Chevron, Texaco and Caltex brand names. Select brands include Havoline®, Delo®, Ursa®, Revtex® and Texaco Xpress Lube®. Chevron Products Company owns patented technology in advanced lubricants products, new generation base oil technology, and coolants. Headquartered in San Ramon, CA, Chevron Products Company, together with its Chevron affiliates worldwide, is ranked among the top three global marketers of lubricants and is active in more than 180 countries through 4,000 employees. For more information go to: www.chevron.com
More from Electronic Components & Devices