Die Lifters move tools in and out of press.
Press Release Summary: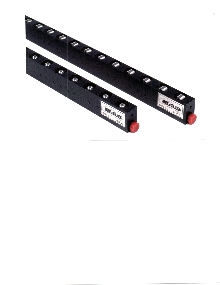 Spring loaded and hydraulic die lifters enable easy movement of heavy dies, molds, fixtures, tools and pallets for metal stamping and plastic injection molding. Upon activation, lifters raise die 0.08 to 0.16 in. above bolster, allowing die movement. When pressure is released, die lowers into bolster. Lifters move dies in several directions for proper positioning. They are available in four metric DIN650 T-slot sizes and two imperial sizes.
---
Original Press Release:
EAS Mold & Die Change Systems Introduces Die Lifter Line

EAS Mold & Die Change Systems has announced introduction of a broad line of die lifters to facilitate and accelerate tool movement in and out of vertical presses. The line includes spring loaded and hydraulic ball-style and roller die lifters available in imperial and metric sizes, providing versatility and customized systems for die change applications.

The new die lifters enable easy movement of heavy dies, molds, fixtures, tools and pallets along a T-slotted surface. Their flat sided design enables them to fit in a slot or standard JIC T-slots.

EAS's hydraulically operated ball style lifters are designed for moving dies in several directions for proper positioning. They are available in four metric DIN650 T-slot sizes and two imperial sizes.

The company's roller die lifters are available in three metric DIN650 T-slot sizes and one imperial size. They provide easy, precise transfer of the die into and out of the press without side-to-side movement.

Upon activation, the lifters raise the die between .08 in. and .16 in. (2mm-4mm) above the bolster, allowing die movement. When the pressure is released, the die is lowered into the bolster.

EAS's metric hydraulic ball-style and roller die lifters are designed for maximum hydraulic pressure of 75 bar and 150 bar, respectively. The imperial die lifters are designed for 1085 psi and 2175 psi, respectively. All models are designed with steel rollers that minimize wear to the die and simplify die movement.

EAS Mold & Die Change Systems provides a broad range of quick die and quick mold change products and solutions for manufacturers in the metal stamping and plastic injection molding industries

More from Electrical Equipment & Systems