Die Grinders deliver 0.4 hp for high working speed.
Press Release Summary: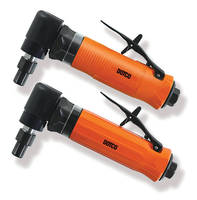 Dotco die grinders 12LF Series and 10LF Series feature rugged aluminum body and dual-material composite body with cushioned areas, respectively. They are available with rated speeds of 12,000 or 20,000 rpm using either 9 or 11 cfm of air at 90 psi. Grinders feature design that does not require shim kit after disassembly, simplifying maintenance.
---
Original Press Release:

New Dotco® Die Grinders Boost Productivity with 33% More Power



New tools feature greater power for higher working speed

Apex, NC - June 15, 2009 - Cooper Tools announces the launch of its new line of Dotco die grinders. The new 12LF Series and 10LF Series grinders feature an increase from 0.3 horsepower to 0.4 horsepower, delivering an improvement of up to 20% higher working speeds than existing Dotco models and many other tools on the market for greater productivity.

In addition to the power increase, the Dotco grinders feature a new design that does not require a shim kit after disassembly. This simplifies maintenance and minimizes downtime. The new tools are available with rated speeds of 12,000 or 20,000 RPM using either 9 or 11 CFM of air at 90 PSI. The 10LF Series has a rugged aluminum body for maximum durability, while the 12LF Series features a dual-material composite body with cushioned areas for maximum comfort and control.

"The higher horsepower ratings of both the 10LF and 12LF grinders allow them to develop maximum power at a higher speed," says Don Meredith, Marketing Product Manager at Cooper Tools. "Higher speed at maximum horsepower means more material removal and higher productivity."

For more information about Dotco die grinders or the other premier brands of specialized industrial power tools manufactured by Cooper Tools, please visit www.CooperPowerTools.com.

About Cooper Tools

Cooper Tools serves a multitude of global markets, including automotive, aerospace, electronics, energy, hardware, industrial, and volume retail. It offers a broad selection of application-oriented products, together with the teamed experiences of talented engineers and designers and quality-conscious production, customer service, and product development personnel. Cooper Tools provides meaningful productivity gains to its customers through the proper application of its many well-known brands of specialized industrial power tools, hand tools, chain, and electronic soldering products.

With headquarters in Apex, North Carolina, Cooper Tools maintains manufacturing and sales/service facilities located in the Americas, Europe, and the Asia Pacific region. For more information, visit www.coopertools.com.

About Cooper Industries

Cooper Industries, Ltd. (NYSE: CBE) is a global manufacturer with 2008 revenues of $6.5 billion, approximately 88 percent of which are from electrical products. Founded in 1833, Cooper's sustained level of success is attributable to a constant focus on innovation, evolving business practices while maintaining the highest ethical standards, and meeting customer needs. The Company has eight operating divisions with leading market share positions and world-class products and brands including: Bussmann electrical and electronic fuses; Crouse-Hinds and CEAG explosion-proof electrical equipment; Halo and Metalux lighting fixtures; and Kyle and McGraw-Edison power systems products. With this broad range of products, Cooper is uniquely positioned for several long-term growth trends including the global infrastructure build-out, the need to improve the reliability and productivity of the electric grid, the demand for higher energy-efficient products and the need for improved electrical safety. In 2008, 61 percent of total sales were to customers in the industrial and utility end-markets and 37 percent of total sales were to customers outside the United States. Cooper, which has manufacturing facilities in 23 countries as of 2008, is incorporated in Bermuda with administrative headquarters in Houston, TX. For more information, visit the web site at www.cooperindustries.com.

1000 Lufkin Road
Apex, NC 27539
Phone: (919) 387-0099
Fax: (919) 387-2614

More from Construction Equipment and Supplies