Die-Cast Aluminum Boxes feature IP68 rating.
Press Release Summary: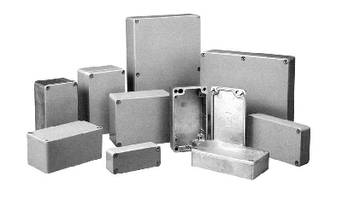 Combining corrosion-resistant die-cast aluminum construction with continuous silicon gasket, AN-A Series can house sensitive equipment in hazardous, dusty, and washdown factory environments, as well as in wet outdoor locations. Enclosures are available in 24 sizes ranging from 3.54 x 1.42 x 1.18 in. to 10.24 x 6.30 x 3.56 in., suited for machine controls, security, lighting, instrument cases, meter cases, and junction boxes. In addition to IP68, series is rated NEMA 4X, 6, 6P, 12, and 13.
---
Original Press Release:

Bud Industries Announces Broadest Line of IP68 Die-Cast Aluminum Boxes Available at the Lowest Price



Enclosure protects designs even during submersion in water



CLEVELAND, Ohio— Bud Industries, a leading manufacturer of electronic enclosures, has introduced the AN-A Series enclosures, the broadest line of IP68 rated boxes available at the lowest price. This unusually high IP rating safeguards electronics and electrical designs with exceptional protection, even where there is a risk of submersion.



The corrosion-resistant die-cast aluminum construction combined with a continuous silicon gasket provides a low-cost solution for housing sensitive equipment in hazardous, dusty, and washdown factory environments, as well as in wet outdoor locations. In addition to IP68, the series is rated NEMA 4X, 6, 6P, 12 and 13. It was tested under six feet of water for 24 hours and passed with no water ingress.



Application environments include chemical processors, marine environments, petrochemical sites, wood and metal grinding operations, washdown factories, and other powder/ dust processing. The enclosure is exceptionally well suited for housing machine controls, security, lighting, instrument cases, meter cases, and junction boxes.



The new enclosure is available in 24 sizes ranging from 3.54 inches x 1.42 inches x 1.18 inches to 10.24 inches x 6.30 inches x 3.56 inches. The cover attaches with stainless screws.

The NEMA 6 and UL 6 rated version is available in a natural finish. The NEMA 6P version features a black powder coat finish for extra corrosion protection.



Price and Availability

AN-A series boxes are available from stock at prices starting at $4.00 with quantity discounts available.



For downloadable drawings visit the Bud website www.budind.com. Enclosure modifications are readily available from the factory. Only Bud offers 5-day turnaround on simple modifications such as holes and cutouts.



Accessories include ANX series aluminum internal panels and IPG series IP67 cable glands.



For more information on Bud's new AN-A Series enclosure, visit http://www.budind.com/view/Die+Cast+Aluminum+Enclosure/AN-A+Series+-+IP68.



To request a free Bud electronics enclosures catalog, visit http://www.budind.com/request_catalog.php or contact the Sales Department at:



4605 E. 335th Street

Willoughby, Ohio, 44094

Phone: 440-946-3200

Fax: 440-951-4015

Web: www.budind.com

Email:

[email protected]





About Bud Industries, Inc.

Founded in 1928, Bud Industries, Inc. is the nation's leading manufacturer of enclosures and related products for the electronics and data industries. The Bud line includes products ranging from small hand-held boxes to large cabinet racks, products made from plastic as well as metal, and standard electronic products as well as those that meet NEMA and seismic requirements. Bud's standard product line of more than 2,500 products is heavily stocked by distribution channels as well as by the company itself, allowing same-day shipment of more than 90 percent of the enclosures sold. Bud can make simple modifications to most enclosures to your specs in five days. Custom products are also available, as is complete design support.



Bud Social Links:

Bud Blog http://www.budind.com/blog/

Bud on Twitter https://twitter.com/Budbox 

Bud on YouTube https://www.youtube.com/user/budind

Bud on LinkedIn https://www.linkedin.com/company/bud-industries-inc