Dichroic Laser Beam Combiners are polarization insensitive.
Press Release Summary: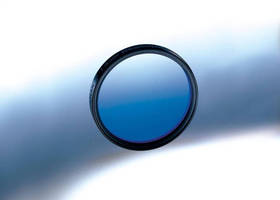 Constructed from low auto-fluorescence substrates with hard ion-beam sputtered coating, Dichroic Laser Beam Combiners combine or separate multiple laser beams at 45° angle of incidence. They are available at 6 cut-off wavelengths and are suited for use with 375-785 Nm lasers. Combiners suit variety of multi-laser fluorescence imaging and measurement applications, including laser microscopy and flow cytometry.
---
Original Press Release:

Edmund Optics® Introduces Dichroic Laser Beam Combiners



Combine or separate multiple laser beams at 45° angle of incidence

August 26, 2009, Barrington, N.J. - Edmund Optics (EO), the premier provider of optical components, introduces new Dichroic Laser Beam Combiners. They are designed to efficiently combine or separate multiple laser beams at a 45° angle of incidence. The dichroic laser beam combiners feature high reflection, greater than 98%, and excellent transmission of greater than 95% at popular laser lines while yielding extremely low loss. They are also polarization insensitive. Dichroic Laser Beam Combiners are available at 6 cut-off wavelengths, making them ideal for combining or separating lasers between 375nm and 785nm. "These durable, versatile Dichroic Laser Beam Combiners are perfect for multi-laser fluorescence imaging and measurement in medical, laboratory, and industrial settings," said Gregory Fales, Product Manager, Edmund Optics.

Hard Ion-Beam Sputtered Coating for excellent durability
The Dichroic Laser Beam Combiners are constructed from low autofluorescence substrates with dense, ultra-durable coatings. They feature a Hard Ion-Beam Sputtered Coating. They are ideally suited for a wide variety of multi-laser fluorescence imaging and measurement applications, including laser microscopy and flow cytometry. Dichroic Laser Beam Combiners are in-stock and available for immediate delivery.

About EO:
Edmund Optics® (EO) is a leading producer of optics, imaging, and photonics technology for R&D, electronics, semiconductor, pharmaceutical, biomedical, and military markets around the globe. EO is the world's largest supplier of off-the-shelf optical components. Customers can purchase items by contacting EO at 1-800-363-1992, via the new interactive catalog, the website at www.edmundoptics.com, or requesting their print catalog.

Company Contact:
Marisa Edmund
Vice President, Marketing
Edmund Optics, Inc.
101 East Gloucester Pike
Barrington, NJ 08007 U.S.A.
Phone: 1-800-363-1992
Fax: 1-856-573-6295
email: medmund@edmundoptics.com

More from Agricultural & Farming Products