Diba Industries Offers Cleanroom Assembly and Packaging for High Purity Applications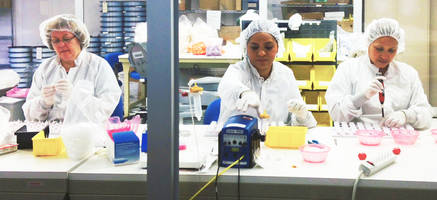 Danbury, Conn. (March 29, 2017) – Fluid handling expert Diba Industries' manufacturing facilities feature an ISO certified Class 7 / Fed Std Class 10,000 cleanroom to meet the needs of customers with high purity and particle-free assembly requirements. The flexible 600 square foot space can be configured to accommodate a team of workers for high volume production of tubing assemblies, kits and integrated manifolds complete with valves, flow regulators and other controls.
"Diba's OEM customers are global leaders in diagnostics, life sciences and medical devices," explained John Auer, Quality, Health, Safety & Environmental Manager. "Increasingly, they are looking to us for a seamless one-stop solution. From helping a customer develop the initial specification, through design, manufacture and assembly to packaging, Diba can provide a complete and customized solution. Our cleanroom helps complete that seamless one-stop solution they seek," says Auer.
Diba employees are trained in cleanroom protocol to ensure consistent quality standards. Diba's cleanroom procedures are integrated into the Diba Quality Management System.
Sample cleanroom projects include assembly and testing of a diffusion bonded manifold complete with flow restrictors, rocker valves and tubing assemblies with temperature controls. For another original equipment manufacturer, Diba assembled and packaged kits with tubing assemblies, filters and other consumable accessories.
Company Profile:
For 30 years, Diba Industries, Inc. has delivered precision fluid handling solutions to global OEM leaders in diagnostics, life sciences and medical devices. Diba designs and manufactures custom components across the entire system fluid path, including precision probes, fluid heaters, bonded and machined manifolds, tubing assemblies and bottle caps. Diba helps customers optimize instrument performance by minimizing carryover, improving wash characteristics and increasing system throughput and accuracy. Diba is headquartered in Danbury, CT with additional manufacturing in Berlin, CT, Cambridge, UK and Shanghai. Diba is a Halma company (www.halma.com).
Diba is Fluid Intelligence!
Company Contact:
Robert Klemyk
Diba Industries, Inc
4 Precision Road
Danbury, CT 06810
Tel: +1 203.744.0773
Fax: +1 203.744.0663
E-mail: Robert.klemyk@dibaind.com
Website: www.dibaind.com
More from Communication Systems & Equipment