Diaphragm Valves feature integrated pneumatic actuator.
Press Release Summary: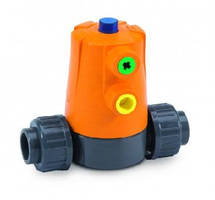 Available in DN15 with pressure rating of PN6, Type 604/605 Valves offer fail safe to close, fail safe to open, and double acting operating modes. Units come in PVC-U, CPVC, PP-H, and PVDF with diaphragm made of EPDM, FPM, PTFE/EPDM, or PTFE/FPM, enabling use with aggressive media as well as neutral fluids. Type 604 can be mounted into system with true union connection matching all standard GF unions and inserts and solvent cementing. Type 605 comes with sealed or resealable nozzle.
---
Original Press Release:

Economic Long Runner - the Diaphragm Valve Type 604/605



GF Piping Systems adds the new diaphragm valve type 604/605 with integrated pneumatic actuator to its extensive product range. This long runner – available beginning of October 2015 – combines compact design with best flow performance for an economic price-performance ratio.



The valve's compact design fits standard installation lengths. Its integrated pneumatic actuator with quick opening and closing times enables more than one million closing cycles over its long service life. That is what GF Piping Systems calls a durable hard worker. The valve is flexible in its operating modes and offers fail safe to close (FC), fail safe to open (FO) and double acting (DA) options.



The actuator housing can be opened quickly for service due to the central housing nut. The connection with the valve body is full plastic without any metal parts.Therefore all materials have the same temperature expansion coefficients which prevents leakages and avoids re-torqueing of screws. Thanks to the optimized linear flow characteristics the kv value is up to 30 percent higher than with comparable valves. The valve is available in DN15 with the pressure rating of PN6.



The small six-arms phenomena is living all over the world in equally cozy or harsh environments. Like the GF Piping Systems diaphragm valves. The wide range of materials offers highest adaption and resistance to chemical fluids and environments. The valves are available in PVC-U, CPVC, PP-H and PVDF. Diaphragms in EPDM, FPM, PTFE/EPDM and PTFE/FPM enable the handling of aggressive media as well as neutral fluids. That makes them even more flexible and reliable for all your applications. Valve type 604 can be mounted into your system with true union connection matching all standard GF unions and inserts and solvent cementing. Valve 605 comes with a sealed or resealable nozzle. The valves meet the standards ISO, BS, ASTM and JIS.



The new diaphragm valve will communicate with you as well. A unique QR code on the product leads to installation manuals, online training videos and certifications.



Open your application in water treatment, the chemical process or other industries for the diaphragm valve type 604/605 and you will be astonished what this small valve can handle.



About GF Piping Systems

GF Piping Systems is a division of the Georg Fischer AG group of companies which also includes GF Automotive and GF Machining Solutions. Founded in 1802, the Corporation is headquartered in Schaffhausen, Switzerland, and wholly owns 126 individual entities, employing 14,100 employees across 31 countries. In 2014, Georg Fischer AG generated revenues totaling CHF 3.79 billion. GF is a globally preferred partner for the safe transport of liquids and gases, lightweight casting components in vehicles and high-precision manufacturing technologies.



For more information, visit www.gfps.com.



Georg Fischer LLC

9271 Jeronimo Road

92618 Irvine, CA

United States

Phone : +1 714 731 88 00

Fax : +1 714 731 62 01

us.ps@georgfischer.com



Georg Fischer Piping Systems Ltd

Ebnatstrasse 111

Postfach

8201 Schaffhausen

Switzerland

OBST Julia

Phone : +41 (0) 52 631 31 19

Fax : -

julia.obst@georgfischer.com

More from Test & Measurement