Diaphragm Valve dispenses wide variety of chemicals.
Press Release Summary: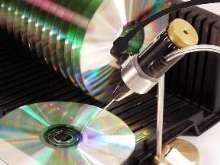 Measuring 1.06 in. dia x 3.45 in. long, Model TS5622VU-DVD dispenses low-medium viscosity fluids and delivers consistent deposits over range of shot and bead sizes. Stainless steel fluid housing ensures compatibility with variety of chemicals, particularly those used in manufacture of DVDs and CDs, such as UV cure adhesives, resins, and lacquers. With max fluid pressure of 70 psi, valve operates at up to 400 cycles/min and minimizes turbulence to counteract air bubbles.
---
Original Press Release:

Techcon Systems Introduces a New Diaphragm Valve for Use With a Wide Variety of Chemicals, Including UV Cure Adhesives, Resins and Lacquers


TS5622VU-DVD dispenses low to medium viscosity fluids, delivers smooth consistent deposits at high speed, significantly reduces turbulence to counteract air bubbles and offers low maintenance costs.

Techcon Systems, a leading provider of fluid processing solutions is pleased to introduce a new valve, the TS5622VU-DVD Stainless Steel Diaphragm Valve. The valve has been designed to dispense low to medium viscosity fluids and to deliver consistent deposits over a wide range of shot and bead sizes. It is accurate to a fraction of a micro liter, making it an ideal choice for precision dispensing.

The new diaphragm valve features a stainless steel fluid housing to ensure its compatibility with a wide variety of chemicals, and in particular those used in the manufacture of DVDs and CDs, such as UV cure adhesives, resins and lacquers.

DVD and CD manufacturers favor spin coating, a process in which a thin film is created by dropping a raw material solution onto a substrate, enabling the even spread of material. No air bubbles are acceptable during this process or the coating will not be completely even. The stainless steel fluid housing on the TS5622VU-DVD Stainless Steel Diaphragm Valve enables a consistently smooth fluid path to significantly reduce turbulent flow and air entrapment.

To assist in maintaining this consistency, the valve has a short opening stroke to provide an extremely fast and positive shut-off, and an external stroke control adjustment to make it easy to fine-tune the shot size.

Important in the development of the TS5622VU-DVD Stainless Steel Diaphragm Valve was the provision of a lightweight (0.268lb - 120g), compact design (1.06" - 27mm diameter by 3.45" 88mm long), which allows for mounting flexibility and easy integration into most automated applications. Speed was another important factor, and the new valve enables a high-speed operation of up to 400 cycles per minute.

Today's manufacturers are continually looking at cost reduction and keeping maintenance to a minimum is high on their agenda. With this in mind Techcon Systems set demanding performance levels for the new valve, which is able to offer 2,000,0000 cycles before diaphragm replacement is required. The valve is easy to maintain with user replaceable spare parts, including a fluid housing replacement kit and diaphragm replacement kit.

To reduce the cost of training, Techcon Systems designed the valve to be simple to operate and fully compatible with most pneumatic valve controllers.

Techcon Systems conducted extensive trials on the TS5622VU-DVD Stainless Steel Diaphragm Valve, which dispensed consistently, across all viscosity ranges. The launch of the TS5622VU-DVD Stainless Steel Diaphragm Valve effectively brings the next generation of sophisticated and efficient diaphragm valve to the marketplace.

Technical specifications of the TS5622VU-DVD Stainless Steel Diaphragm Valve also include:
Fluid inlet port of 1/8" NPT
Fluid outlet port with Luer lock connection
Air inlet port of 10-32 UNF-2B
Maximum fluid pressure of 70 PSI (4.8 Bars)
Operating pressure of 70-90 PSI (4.8-6.2 Bars)
Wetter parts UHMWPE and 303 series stainless steel

About Techcon Systems
Techcon Systems match materials science with technical innovation to serve Aerospace, Automotive, Communications, Data Storage, Electronics and Medical Device dispensing needs.

Techcon Systems is a leader in premium fluid delivery systems and play a critical role with manufacturers who use adhesives and lubricants in their component manufacturing processes.

Techcon Systems continually provides its partners with new options for fluid dispensing. Techcon's Advanced Materials Laboratory tests new materials and applications daily to ensure that all Techcon products are compatible with the widest range of fluids available.

For further information on Techcon System's TS5622VU-DVD Diaphragm Valve, please contact: Mr Wei Huang, Product Manager Fluid Dispensing Systems, OK International, Techcon Systems Brand, 12151 Monarch Street, Garden Grove, CA 92841, USA
714 799 9910, Fax: 714 799 9533 e-mail: whuang@okinternational.com, Web site: www.techconsystems.com

More from Packaging Products & Equipment