Diaphragm Pumps come in single and dual head models.
Press Release Summary: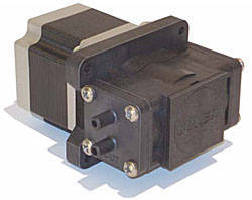 Available with choice of stepper motor control boards, Boxer Series 3500 is rated for flow rates to 5 lpm for gases and 2 lpm for liquids. Dual head models can be plumbed in parallel for max flow or in series for max vacuum or pressure performance. Featuring self-priming, maintenance-free design, Boxer Series 3500 requires no lubrication and is suitable for environmental sampling instruments, portable and fixed gas analyzers, and dispensing applications.
---
Original Press Release:

New Miniature Stepper Motor Driven Diaphragm Pumps Designed For High Performance OEM Applications



New diaphragm pumps available in single or dual head models ideal for use in environmental sampling instruments, portable and fixed gas analysers, and dispensing and many other pressure and vacuum applications.

Hudson, MA - Clark Solutions announces the introduction of the Boxer Series 3500 Stepper Motor Driven Diaphragm Pumps. Available in single or dual pump head models, Boxer 3500 Pumps are rated for flow rates to 5 LPM for gases and 2 LPM for liquids. Boxer Series 3500 pumps are available with a choice of stepper motor control boards and easy-to-use software for programming stepper motor functions. The dual head pumps on Boxer 3500 pumps can be plumbed in parallel for maximum flow or in series for maximum vacuum or pressure performance. They can also function as two separate pumps. Series 3500 pumps are self-priming, require no lubrication, and are maintenance free.

The optional Stepper Motor Control Board for Boxer 3500 Pumps can be directly fitted to the back of any Boxer Pump supplied with a stepper motor. The Model 6000.503 Stepper Motor Control Board is supplied for RS232 interface and the Model 6000.504 is for USB interface.

SPECIFICATIONS

Stepper Motor: 6-30VDC, 2.8A/Phase

Full Steps Per Revolution: 200

Resistance per Phase: 0.83

Inductance per Phase; mH 2.2

Motor Wire Gauge: UL1007 AWG22

Built-in Home Sensor: Meder MK20.1 reed switch

Sensor Wire Guage: AWG30

Max. Ambient Operating Temperature; 50°C

Max. Media Temperature; 50°C

Max. Ambient Operating Temp. : 50°C

Max. Process Operating Temp. : 100°C

Material Wetted Parts; NBR, Silicone & PPS (polyphenylene sulfide)

Port Tube Sizes:

Style A: 9.3 mm diameter OD

Style B: 6.5 mm diameter OD

Weight 752g

Dispensed Liquid per Rotation (200 Steps) per Head:

Head Style A: 1 ml ±10%

Head Style B: 0.6 ml ±10%

Max. System Pressure: 2 Bar

Built-in Home Sensor: Meder Reed Switch

Clark Solutions has a fifty-year history of providing unique solutions to the measurement, control, and monitoring of pressure, flow, force, and level in liquids and gases. Located in Hudson, Massachusetts, the company offers instrumentation devices to record, monitor, and control flow, velocity, pressure, temperature, humidity, level, gas concentration, and other properties. Clark Solutions also provides a wide range of pumps for liquids, gases, and air, including diaphragm pumps, piston pumps, rotary vane pumps, gear pumps, peristaltic pumps, impeller pumps, centrifugal pumps, and bellows pumps. Valve offerings include inert isolation valves, solenoid operated valves, valve actuators, pinch valves, manifold valves, ball valves, globe valves, butterfly valves, needle valves, and miniature and subminiature valves.

For more information, contact Clark Solutions, 10 Brent Drive, Hudson, MA 01749, Tel. 978-568-3400, Fax 978-568-0060, email sales@clarksol.com, or visit our web site at www.clarksol.com.

Product URL: www.clarksol.com/html/BoxerSeries3500Pump.cfm

More from Electrical Equipment & Systems