Diagnostics System provides crane analysis in real-time.
Press Release Summary: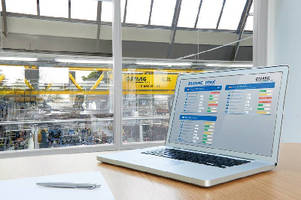 Consisting of interface that is integrated into crane installation, and associated software to visualize crane status, Demag StatusControl lets users access all relevant operating data with mobile devices based on Windows. System analyzes and interprets actual condition of cranes and hoist units on basis of comparative data and pre-defined threshold values. With color code based on traffic light system, users can see at-a-glance where work needs to be done.
---
Original Press Release:

Demag StatusControl: Crane Analysis in Real Time



• Convenient monitoring via remote access

• High level of system transparency with traffic light system

• Operating data acquisition also for contactor-controlled systems



Wetter, Germany – Full overview of the status of your crane installations at all times: Terex Material Handling launches a new diagnostics system for crane installations with Demag StatusControl. The solution consists of an interface that is integrated into the crane installation, as well as associated software to visualise the status of the crane installation. Users can also access all relevant operating data with mobile devices based on Windows, such as notebooks or tablet PCs via WLAN or GSM at all times.



Demag StatusControl not only continuously supplies all of the latest operating data from connected crane installations, such as the remaining service life or elapsed operating data for the travelling hoist. The system also analyses and interprets the actual condition of the cranes and hoist units on the basis of comparative data and pre-defined threshold values.



A colour code based on the traffic light system enables the user to see at a glance where work needs to be done. When the remaining service life drops below a certain level, rope hoists have to be given a general overhaul as specified by legal requirements, for example.



The traffic light system indicates this reliably and in good time and also helps to ensure that safety requirements are met as laid down by the FEM (the European Materials Handling Federation). Status reports also document the collected data and evaluations, which can be quickly accessed to obtain a history of the installation.



"Demag StatusControl improves the operating reliability and availability of crane installations", explains Carolin Paulus, Vice President Demag Service at Terex Material Handling. "Companies can be provided with a complete overview of the operating status of their crane installations at all times and, thanks to this cost-effective and preventive maintenance solution, they can avoid expensive repairs or unscheduled downtimes. With our IDAPSY diagnostic software, we were already the first manufacturer to introduce a tool that can read out rope hoist data." However, since communication via IDAPSY uses a wired system, the data records had to be read out direct on the crane or rope hoist. Convenient remote monitoring with the new Demag StatusControl system now significantly reduces the effort involved in monitoring installations. "Companies save time and money, since no other equipment, such as elevating work platforms, is needed in order to read out the data", explains Paulus. Cranes equipped with contactor controls can now also be integrated.



With Demag StatusControl, Terex Material Handling helps the owners of crane installations to plan their maintenance work: users receive information in good time regarding potential faults and risks and can intervene with preventive measures before processes are halted by costly interruptions. In this way, downtimes can be kept to a minimum. Thanks to the software's intuitive user interface, no training is needed to use the system. The system can be employed in any crane installation, regardless of the brand or manufacturer, and can be retrofitted at any time.



About Terex Material Handling

Terex MHPS GmbH is one of the world's leading suppliers of crane technology with Demag industrial cranes and crane components. The core competence of the Terex Material Handling business group lies in the development, design and production of technically sophisticated cranes, hoists and components and the provision of sales support and services for these products. Terex Material Handling manufactures at 19 locations on five continents and reaches its customers thanks to its presence in more than 60 countries.



About Terex Corporation

Terex Corporation is a diversified global manufacturer engaged in the mechanical and plant engineering sector. A core activity of Terex Corporation is the provision of reliable, customer-driven solutions for many applications, including the construction, infrastructure, shipping, transport, quarrying, mining, refining, energy, utility and manufacturing industries. Terex reports in five business segments: Aerial Work Platforms, Construction, Cranes, Material Handling & Port Solutions and Materials Processing. Terex Financial Services offers a wide range of products and services to assist in the acquisition of Terex equipment. Please visit our websites at www.demagcranes.com  and www.terex.com for further information.



Contact for product and trade media

Christoph Kreutzenbeck

Terex MHPS GmbH

Phone:  +49 (0) 211 7102-3907

Email:

[email protected]