Diagnostic Tool detects automotive electrical faults.
Press Release Summary: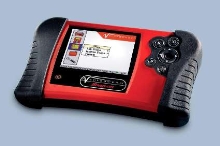 Information-guided Vantage PRO(TM) combines automotive power graphic meter and 2-channel lab and ignition scope to capture and translate electrical component and diagnostic information and faults. Using Windows OS, Vantage PRO includes ARM processor, sunlight-readable color display, and expandable hardware architecture. It provides over 2 million vehicle-specific component tests, including tests for engine, transmission, ABS, charging, transfer case, and suspension systems.
---
Original Press Release:

Snap-on Diagnostics' Vantage PRO Combines Multiple Tools for Accurate Component Testing and Graphing


Component Diagnostics Made Easy by New Information-Guided Instrumentation

San Jose, Calif., and Lincolnshire, Ill., July 1, 2005 - Snap-on Diagnostics' new Vantage PRO(TM) (EETM303A) combines the resourcefulness of the industry's leading experienced-based information with an automotive power graphing meter and two-channel lab and ignition scope to accurately capture and translate complicated electrical component and diagnostic information and faults.

The high-speed lab scope embedded into the Snap-on® Vantage PRO gives technicians the power to view, analyze and capture intermittent signals that plague automotive electrical systems. The lab scope's eight megasamples per second speed and patented glitch display technologies ensure accurate diagnosis of even the fast CAN-bus signals on today's advanced vehicles.

Snap-on Vantage PRO is the first redesign of the original Vantage in almost 10 years. With the addition of the two-channel lab and ignition scope, fast ARM processor, large sunlight-readable color display, expandable hardware architecture and Windows operating system, it now has evolved into an increasingly more powerful diagnostic tool that covers most vehicle makes from 1979 to 2003, including more than 45,000 unique vehicles.

From selecting the proper component test to directing the hook-up location and correct pin configuration through the entire process, the Snap-on Vantage PRO thoroughly guides the technician and provides instruction on proper testing procedures and tips from its internal troubleshooter database. The diagnostic tool automatically configures itself with vertical and horizontal instrumentation scales to ensure optimal viewing of the waveforms, reducing overall set-up and testing time. The unit provides over 2 million vehicle-specific component tests, including tests for engine, transmission, ABS, charging, transfer case and suspension systems.

The full-featured power graphing meter, lab scope and ignition scope provide significant buffering and snapshot-capturing capabilities. The meter and lab scope store more than 1,000 continuous screens of diagnostic data, with advanced zooming capabilities that allow all the data to be visible on one screen. The patented Peak Detect software ensures that the 262,000 data points stored for each channel are the most valuable readings, making glitches more visible.

Additional insights from ASE-certified and factory technicians embedded in the Vantage PRO include: no-start, ignition, current ramping, transmission and oxygen sensor diagnostic strategies and training modules.

The Snap-on Vantage PRO is built with the component test and instrumentation technology from the Snap-on MODIS System and allows technicians to view and record live data streams to observe and diagnose electrical faults. By comparing live readings side-by-side with expected value ranges and known-good patterns, technicians can quickly read faults and isolate problems more efficiently without the need of additional resources or tools. Properly using the unit allows technicians to determine whether a component is bad before replacing it with a new one, reducing the replacement guessing game and customer comebacks.

The Snap-on Vantage PRO offers five independent channels that accept a variety of standard and optional test leads for accurate testing on a diverse range of vehicles, permitting specific readings from each channel. Included in the unit is a dedicated channel for shunt amps testing, for increased accuracy on low AMPS range for testing parasitic draw. The continuity beeper provides an audible means for technicians to confirm continuity loss while performing wiggle and tap tests.

The large 5.7-inch backlit color display allows technicians to view even the slightest spikes and glitches in electrical signals, while showing necessary parameter and diagnostic guidance information on one screen. For quick access to future vehicle coverage and system enhancements, technicians can update the Snap-on Vantage PRO through a CompactFlash card or on their dealer's van utilizing ScanBay.

The unit's battery offers five hours of continuous use with one charge and, because it's removable and externally rechargeable, multiple batteries can be used to eliminate costly charging downtime. Vehicle power or the included AC power adapter can also power the Snap-on Vantage PRO.

The Snap-on Vantage PRO also comes with a molded carrying case, the rechargeable battery and charging station, power lead and shielded test leads for the most common tests. Optional accessories, including a low amp current probe, vehicle-specific coil adapters, multiple secondary ignition adapter for waste spark systems and more make the Vantage PRO a complete component test and translation tool for technicians.

Technicians can find out more about the Snap-on® Vantage PRO (EETM303A) from Snap-on Diagnostics by contacting their local Snap-on representative, visiting www.snapondiag.com or calling toll free 877-762-7662.

Snap-on Diagnostics is part of Snap-on Incorporated, a leading global developer, manufacturer and marketer of tool and equipment solutions for professional tool users. Product lines include hand and power tools, diagnostics and shop equipment, tool storage products, diagnostics software and other solutions for the transportation service, industrial, government, education, agricultural, and other commercial applications, including construction and electrical. Products are sold through its franchised dealer van, company-direct sales and distributor channels, as well as over the Internet at snapon.com. Founded in 1920, Snap-on is a $2 billion-plus, S&P 500 company headquartered in Kenosha, Wis., and employs approximately 11,500 people worldwide.

More from Machinery & Machining Tools