Diagnostic Test Tools find switching system faults.
Press Release Summary: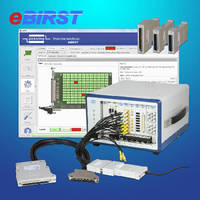 Designed for Pickering PXI, PCI, or LXI products, eBIRST Switching System Test Tools identify faulty relays and display graphical representation of switching system's PCB assembly, highlighting relays that need to be replaced. Three tools support 200-way LFH, 78-way D, and 50-way D connectors, while set of adapters allow connection to other connector types. Application program controls tools via USB2 connection that also provides power and controls switching system using Test Definition File.
---
Original Press Release:

Pickering Interfaces Introduces eBIRST(TM) Switching System Test Tools



Designed to Lower the Cost of Switching System Ownership



Clacton-on-Sea, UK — Pickering Interfaces, a leading provider of modular signal switching and instrumentation for use in electronic test and simulation, is lowering the cost of ownership of switching systems with the introduction of their latest diagnostic test tools—eBIRST Switching System Test Tools.



The eBIRST tools, designed specifically for Pickering Interfaces PXI, PCI or LXI (Ethernet) products, simplify switching system fault finding by quickly testing the system and identifying the faulty relays. Once identified, the tools then display a graphical representation of the switching system's PCB assembly, highlighting the relays that need to be replaced. The eBIRST tools achieve this task by measuring the path resistance between different pins on the switching system connector and controlling the path through the system to allow it to test any of the relays in the system. Systems that use separate input and output connections can be tested by use of two eBIRST tools in a master/slave configuration.



"In 2009 we introduced an embedded test tool, BIRST™ (Built-In Relay Self-Test). This tool gave our customers the ability to find defective relays in matrix products and was very well received," states David Owen, Business Development Manager for Pickering Interfaces. "The new eBIRST tools build on that experience by introducing external tools that can support any switching system architecture, not just matrices, with 100% relay coverage. These tools can be applied to low or medium power Pickering Interfaces switching systems using any of our primary control interfaces – PXI, PCI or LXI. For a modest investment, the tools offer our customers a quick and efficient method of identifying faults and a simple means of determining what needs to be repaired and what does not. Once a user has tools covering their primary connector use, they have an investment that can save its cost many times over in reduced repair times and lower system down times. No other switching system vendor offers this level of support for its designs."



The eBIRST tools consist of three different tools that support 200-way LFH, 78-way D and 50-way D connectors and a set of adaptors that allow connection to other connector types. A supplied application program controls the eBIRST tools via a USB2 connection that also provides the tool power and controls the switching system using a Test Definition File to define the test sequence. The tool dimensions allow eBIRST to be used to test PXI, PCI or LXI (Ethernet) controlled switching systems.



The application program, which is free to download from the Pickering Interfaces website, is regularly updated to include support for a growing range of Pickering Interfaces switching products.



Pickering Interfaces stands behind all of their manufactured products with a standard three-year warranty and guaranteed long-term product support. Pricing and availability information is supplied on their website at www.pickeringtest.com.



About Pickering Interfaces

Pickering Interfaces designs and manufactures modular signal switching and instrumentation for use in electronic test and simulation. We offer the largest range of switching cards in the industry for PXI, LXI, PCI and GPIB applications as well as a full range of supporting cables and connectors. Pickering's products are specified in test systems installed throughout the world and have a reputation for providing excellent reliability and value. Pickering Interfaces operates globally with direct operations in the US, UK, Germany, Sweden, France, Czech Republic and China, together with additional representation in countries throughout the Americas, Europe and Asia. We currently serve the automotive, aerospace & defense, power generation, energy and commercial electronics industries. For more information on signal switching and conditioning products or sales contacts please visit http://www.pickeringtest.com.



Press contact:

Kim Otte

email: kim.otte@pickeringtest.com

More from Communication Systems & Equipment