Diagnostic System verifies calibration of flow meters.
Press Release Summary: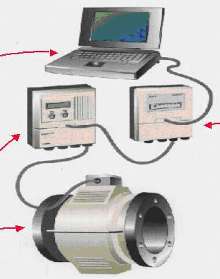 Offered in portable, compact package, CalMaster on-site electronic system lets users obtain routine data of MagMaster(TM) performance and verify original calibration data. Unit carries out pre-programmed verification procedure and lets technicians review results and print out certificates of validation for meter under test. For each installed meter, product can perform diagnostics and condition-monitoring functions.
---
Original Press Release:

Proven Electronic System Verifies Calibration of Installed Magnetic Flowmeters, In-Line Field Unit Validates Calibration and Performance of ABB's Entire MagMaster Flowmeter System - Transmitter, Sensor, and Interconnecting Cable


Warminster, Pennsylvania - June 19, 2003 - Without removing installed meters, users of ABB MagMaster(TM) magnetic flowmeters can employ an on-site electronic system to obtain routine data of each meter's performance and verify that the original calibration data is still valid - thereby satisfying today's ever more stringent auditing and local and federal regulatory requirements. What's more, the system is a valuable diagnostic tool to guide meter preventive maintenance. The calibration system is suitable for chemical, petroleum, and pulp & paper processing, as wells as water and wastewater operations.

The system, tradenamed CalMaster, was developed for its MagMaster line of magnetic flowmeters by ABB Inc.'s Instrumentation Business Unit, with U.S. headquarters in Warminster, PA. It is offered in a portable, compact package that a technician can easily take to a metering site. In minutes, CalMaster carries out a pre-programmed verification procedure. Upon completion, the technician can review results that the system evaluates and, if they meet set standards, the technician can print out a certificate of validation for the meter under test.

The new system is already proving its value in municipalities that use scores of meters on distribution systems for drinking water and on incoming sewage lines feeding into treatment plants. Meter performance is of vital interest to a utility not only from the viewpoint of meters staying in service, but also obtaining accurate readings. In such applications, the meter may be likened to a cash register. ABB has raised the standard in delivering a calibration solution that can be truly validated.

As shown schematically in the figure, the CalMaster control box sits between the existing magmeter transmitter and a portable PC, connected by two test cables. The latter contains an ABB software application that guides the technician through a series of tests. The transmitter has a permanent cable connection to the magmeter's sensor. The meter can be mounted above or below ground, pit-mounted or, especially in larger sizes (e.g., 36- or 48-inch) totally buried underground within a vault, taking advantage of ABB's knowledge of direct-buried applications. Time and expense can be saved by performing the calibration check online, keeping the meter in operation.

For each installed meter, CalMaster can also be a diagnostic and condition-monitoring tool. Through the storage of all previous validations, a long-term trend of meter performance can be obtained. For example, the user can note the gradual deterioration of a meter parameter that relates to a component, so that the user can schedule preventative maintenance.

MagMaster customers have the option of purchasing CalMaster or relying on ABB's Service Team. By calling 1-800-HELP-365, the customer can have an ABB certified CalMaster technician scheduled to perform a validation onsite. This serves two purposes by providing 1) a highly trained ABB certified technician and 2) an independent auditor of the meter's performance. However, some customers may choose to purchase their own unit and licensing fee, which includes certified training of a technician by ABB and annual recalibration.

ABB (www.abb.com) is a leader in power and automation technologies that enable utility and industry customers to improve performance while lowering environmental impact. The ABB Group of companies operates in around 100 countries and employs about 135,000 people. The company's U.S. operations employ about 11,000 in manufacturing and other facilities in 40 states.


More from Architectural & Civil Engineering Products