Diagnostic System facilitates machine monitoring.
Press Release Summary: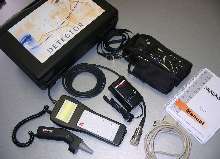 Mobile Maintenance System combines Detector II damage diagnosis instrument with MAXIMO© computerized maintenance management system to identify potential problem areas. Equipped with Trendline condition monitoring software, handheld Detector II data collector measures vibration and temperature and is suited for periodic measurements. MAXIMO enables production-planning department to select specific measuring points and initiate inspection rounds.
---
Original Press Release:

FAG Industrial Services Introduces Damage Diagnostic and Computerized Maintenance Management System


Joining of Detector II and MAXIMO© Brings Efficiency to Plant Maintenance

DANBURY, CT, October 20, 2003 - FAG's Industrial Services unit, F'IS, has introduced an affordable mobile maintenance system that couples its damage diagnosis instrument, the Detector II, with MAXIMO©, a computerized maintenance management system from MRO Software. The result is a unique capability that offers equipment maintenance personnel an easy to use, time saving and affordable system for monitoring machine operations and identifying potential problem areas before they require expensive solutions.

Equipped with the condition monitoring software Trendline, FAG's Detector II is a handheld vibration and temperature measuring device and data collector rolled into one and is the ideal instrument for periodic measurements, e.g. during inspection rounds. Detector II helps users to avoid unexpected machinery downtime and optimize maintenance scheduling. It combines the features of a portable condition monitoring device with those of a data collector used in trending applications. While its predecessor "Detector I" has already proven successful in practical use, the new instrument offers a significantly extended performance range - at comparatively little extra cost for the customer.

Detector II permits non-contact temperature measurement with the help of an infrared sensor. The professional analysis of these measured data helps detect damage at an early stage and plan maintenance work well ahead. In this way unscheduled downtime and expensive follow-up costs can be avoided.

MAXIMO, a computerized maintenance management system (CMMS) already being used successfully in some 10,000 companies around the world, enables the production planning department to not only initiate inspection rounds with the mobile measuring device, but to select the specific measuring points. The use of the trend information stored in the CMMS system permits partial automation of the timing of measurement rounds. If an alarm is triggered as a result of the measurements, i.e. a deviation from the individual standard values is detected, MAXIMO will automatically generate a maintenance work order or update an existing order. This order can already contain concrete measures in the form of work stages including the personnel and material requirements to be expected. In addition MAXIMO offers complete plant documentation about repair work and inspection rounds carried out.

One advantage of coupling FAG's Detector II and MAXIMO in condition monitoring is the synergistic use of master data. With MAXIMO, complex company and plant structures can be easily defined into partial views as are required for the use of the Trendline software. Thanks to the coupling of the two systems, the employee performing the measurements no longer needs to update the Detector, but rather can concentrate on the actual job initiated and controlled by MAXIMO. The high level of services offered by service specialists for CMMS systems also include the complete implementation at the customer's site, the customization to specific requirements and the integration into the company's individual IT structure.

FAG Industrial Services (F'IS)
Since the beginning of 2001, FAG has concentrated its services expertise in FAG Industrial Services (F'IS). As an independent company, F'IS offers extensive maintenance services and service products on a manufacturer-neutral basis, helping customers to save on maintenance costs, to optimize machine availability and to avoid unexpected machine downtime.

Company Contact:
Ken Grey
Marketing Manager
FAG Bearings
203.830.8139
grey_k@us.fag.com

Related