Diagnostic Software reveals invisible plant changes.
Press Release Summary: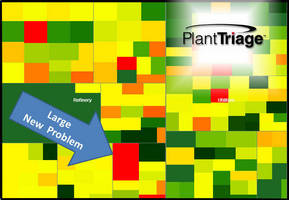 PlantTriage v10.1 and higher comes with CompareMap tool, which lets plant operators see, at-a-glance, how their plant is changing over time. Tool highlights biggest changes and provides drill-down into corrective actions. Comparing plant performance from 2 periods of time, CompareMap instantly highlights performance improvements and deterioration. Plant graphic is based on Tree Map technology, and overall functionality enables 80+ aspects of plant performance to be monitored.
---
Original Press Release:

Invisible Plant Changes Can Now Be Seen



Plant Operators can now see at a glance how their plant is changing over time. PlantTriage's new CompareMap tool focuses operator attention on changing plant conditions. The tool highlights the biggest changes in plant performance, and provides drill-down into corrective actions.

The CompareMap approach compares the plant performance from two periods of time. Performance improvements and deterioration are both instantly highlighted. Operators can immediately focus on important changes in the plant. For example, a shift operator can quickly see what has changed since his last shift.

The high-level plant graphic is based on Tree Map technology. Tree Maps were developed by the University of Maryland, as a way to visualize large amounts of data. Applied to real-time process control data, Tree Maps have been used to provide a snapshot to pinpoint trouble-spots in plant performance.

"Today's plant operator looks over thousands of plant variables daily." says George Buckbee, Vice President of Product Development at ExperTune. "PlantTriage's CompareMap focuses operator attention on the most important aspects of plant performance, enabling the operator to make the most effective use of their time."

CompareMap is flexible, allowing more in-depth analysis by process engineers and control engineers. Over 80 aspects of plant performance can be monitored. These performance measures include production, quality, reliability, and cost-related parameters.

CompareMap is included with all PlantTriage systems, version 10.1 and higher. Existing PlantTriage users receive the features at no charge, as part of their software maintenance agreement.

About ExperTune
For over 25 years, ExperTune has created award-winning optimization software now running in thousands of plants world-wide. ExperTune's PID Loop Optimizer is the industry-leading control loop tuning software, having won dozens of awards over its history. PlantTriage® Control Performance Monitor software oversees the optimization of an entire plant, including equipment, operations, and controls. The PlantTriage suite of optimization tools are designed to increase the efficiency of processes. The tools include swing or oscillation detection and elimination, interaction analysis, modeling, robustness, linearization, valve wear analysis, pH linearization, time series analysis, MPC performance improvement, 6-sigma, frequency response, and PID tuning tools. ExperTune is a member of the OPC Foundation. PlantTriage also seamlessly integrates with the ProcessApex Unit Operations Evaluator. For more information, set your browser to www.planttriage.com.

ExperTune Inc.
Lake Country Research Center
1020 James Drive Suite A
Hartland, WI 53029
Ph: 262-369-7711
Fax: 262-369-7722
www.expertune.com

More from Packaging Products & Equipment