DI Workstation accelerates DCP remastering process.
Press Release Summary: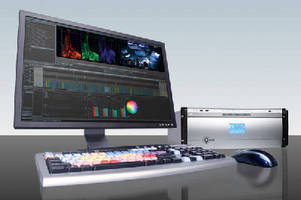 With DCI validation tool, CLIPSTER® DI Workstation v5 is capable of generating mezzanine formats such as IMF. DCP test functions enable Digital Cinema Packages to not only be verified to ensure they comply with all DCI standards, but also to see if they can be played back on popular DCI players. Users can make selective changes to every DCP-validation parameter to suit various test procedures. In stereoscopic workflows, CLIPSTER® offers automatic analysis, correction, and quality control.
---
Original Press Release:

IBC 2012: CLIPSTER® Now 8-Times Faster at DCP Remastering



At IBC 2012, Rohde & Schwarz DVS GmbH will be presenting version 5 of its CLIPSTER® DI workstation. The new feature set will impress users, especially in terms of its 3D performance. Furthermore, the DCP remastering process is now up to eight-times faster than before thanks to CLIPSTER's new render pipeline.

Hanover/Amsterdam. From September 7-11, IBC visitors to booth 7.E25 will among other things be able to see and learn about what impact the new 3D features and dynamic extensions to CLIPSTER® will have on their post production processes. With its cutting-edge DCI validation tool, CLIPSTER® is consolidating its position as a reliable solution in the highly sensitive DCP market, and is impressive at generating mezzanine formats such as IMF.

When it comes to DCI workflows in particular, editors suffer massive losses in time due to complex decoding and encoding stages. DCP remastering processes are very time-consuming particularly in companies working to very tight timescales. Now thanks to CLIPSTER's new render pipeline, the DCI remastering process is an easy feat and can be run up to 8-times faster.

The new DCI validation tool also makes DCI workflows more user-friendly: CLIPSTER® version 5 features extensive, easy-to-use DCP test functions enabling Digital Cinema Packages not only to be verified to ensure they comply with all DCI standards, but also to see if they can be played back on popular DCI players. Furthermore, the user can make selective changes to every DCP-validation parameter in CLIPSTER® to suit various test procedures.

Besides its acclaimed Digital Cinema Package tool, CLIPSTER® supports mezzanine formats such as IMF (Interoperable Master Format). CLIPSTER® complies with the latest developments in IMF standards and version 5 offers CPL (Composition Playlist) support among other features.

When used in combination with RAW cameras too, CLIPSTER® offers maximum flexibility and supports RAW data from all leading cameras, processing it faster than real time. At the same time, playback in up to 4K at 60 fps and 3D at up to 48 fps is possible.
In stereoscopic workflows, CLIPSTER® offers automatic analysis, correction and quality control. The new 3D correction tool in particular is of interest for the 3D presetting of 3D DCPs and deliverables. CLIPSTER® performs quality checks based on the 3D depth histogram and includes additional configurable thresholds for maximum disparities.

Stefan Albertz, DVS Product Manager: "At this year's IBC, we'll be able to present a vast spectrum of product enhancements to all CLIPSTER users and interested parties that will make their everyday work in the areas of DCI, mezzanine formats and 3D considerably easier. Besides a fantastic acceleration in workflow processing, the automated procedures in version 5 of CLIPSTER® will be the main highlight."

About Rohde & Schwarz DVS GmbH: For more than 25 years, Rohde & Schwarz DVS GmbH has been very successful in the professional film, video post production and broadcast markets. The specially developed and manufactured hardware and software are applied to the production of popular TV series, Hollywood blockbusters and in Digital Cinema. CLIPSTER® was the first system in the world to make real-time 4K processing possible. The future-proof Media Production Hub VENICE offers a flexible solution for modern, file-based workflows in broadcast environments. www.dvs.de

Visit our booths at IBC 2012:

Rohde & Schwarz products: 8.D35

DVS products: 7.E25

Press Contacts:

Rohde & Schwarz DVS GmbH

Katrin Brussa

Louise Christensen

Krepenstr. 8

30165 Hannover

Germany

Phone: +49 511 67 80 70

E-mail: dvs.press@rohde-schwarz.com

Internet: www.dvs.de

More from Laboratory and Research Supplies and Equipment