DeWys Manufacturing Cuts Order Return Rate by 50% with New, Automated Orbital Wrapper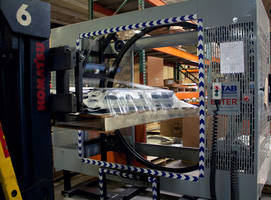 TAB Wrapper Tornado Eliminates Product Damage from Load Shifting in Transit
Reading, PA - Full-service metals manufacturer DeWys Manufacturing, Marne, Michigan, has cut its order return rate by upwards of 50 percent since replacing its horizontal turntable wrapping machine and manual hand-wrapping methods with the automated TAB Wrapper Tornado orbital wrapper from TAB Industries, Reading, Pa. With a single rejected order costing DeWys potentially thousands of dollars in product along with production time, labor and materials to replace the damaged goods, these returns due to defects from load shifting in transit were unacceptable, according to COO Mark Schoenborn, especially for a company committed to Lean Manufacturing, high quality and zero defects. "Our old system was coming up short but the TAB Wrapper has virtually eliminated customer complaints due to issues with pallet loads shifting and damaging the product," says Schoenborn.
The TAB Wrapper Tornado wraps plastic film 360 degrees around and under the pallet to join the products to the pallet and create a single, secure, unitized load that keeps the products in place during lift truck operations, storage, and delivery. Schoenborn purchased the fully automated model with wireless, remote operation and automated cut and wrap, enabling the lift truck driver to operate the TAB Wrapper by pushing a button without leaving his/her seat. Four lift truck drivers wrap nearly 150 pallet loads per day on the orbital wrapper, regardless of the products' size, length or shape. By cutting the return rate and speeding the packaging process, the TAB Wrapper has also allowed DeWys to handle more orders without hiring extra employees.
For a free brochure or more information, contact TAB Industries, LLC, 2525 N. 12th Street, Reading PA 19605; 610-921-0012; info@tabwrapper.com or see www.tabwrapper.com.
More from Software