Miscellaneous Storage Equipment
DEWALT® ToughSystem® Product Family Offers Storage Solutions for Any Jobsite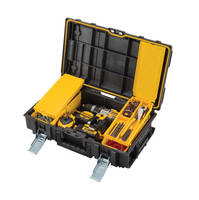 New Britain, CT - The DEWALT® ToughSystem® mobile modular storage system allows you to quickly and easily change the combination of tools you take to work. The ToughSystem® storage family can be configured to meet your needs with a variety of options taking you from the workshop to the job site including tool boxes, totes and a job site radio. When carrying the tool boxes by hand, they can be fastened together utilizing side latches allowing them to be carried as a stack. Also offered are two different mobility options.
The ToughSystem® DS130 Suitcase - model DWST08130 - features organizational elements including four deep, large-size cups for storage of smaller tools and parts; storage pockets in the lid for screwdrivers and drills; and a padlock eye for extra security. The ToughSystem® Suitcase also features an IP65 rated dust and water seal, rust-resistant metal latches, and a durable coated handle—all perfect solutions for unpredictable weather elements.
The ToughSystem® DS450 Mobile Storage - model DWST08250 - is a mobile toolbox, compatible with all existing modules of the ToughSystem® storage family. The stackable base box is made with durable 7" wheels and a top handle for carrying, this unit brings new meaning to portability and mobility. The patented design of the lid opens with a pull-back handle and a non-detachable lid enables full accessibility and maximum storage volume. A metal-plastic telescopic handle and strong handle grip provides great durability for all job sites. Like the DS130, the DS450 Mobile Storage features an IP65 rated dust and water seal, rust-resistant metal latches and internal organization.
The ToughSystem® Workshop Racking Solution-model DWST08260-is a modular self-assembly solution compatible with all ToughSystem® modules, allowing to store and pull out products quickly and easily. The Workshop Racking Solution can be fully customizable for an array of arrangement options and allow to add a self-made shelf on top of brackets for additional storing. Each racking system can carry up to 440 lbs. The workshop racking solution is also available as a combination set including the DEWALT® ToughSystem® DS100 Clear Lid Organizer included - model DWST08270.
Each Workshop Solution pack includes:
• 6 ft. metal bars
• 2 horizontal beams
• 5 pairs of brackets (for toolbox and/or shelf)
About DEWALT:
DEWALT is a leading manufacturer of industrial power tools, hand tools and accessories, including corded and cordless drills, saws, hammers, grinders, routers, planers, plate joiners, sanders, lasers, generators, compressors, nailers, saw blades, metal and masonry drill bits, abrasives, screw driving accessories and more, as well as hand tools and pneumatic tools. DEWALT® tools can be found nationally and internationally, wherever tools are sold. With more than 1,000 factory-owned and authorized locations, DEWALT has one of the most extensive service and repair networks in North America. For more information, visit www.dewalt.com
MEDIA CONTACT
Kristin Schaeffer
Public Relations Manager
Klunk & Millan Advertising
610-973-2400