Vision and Imaging Sensors / Detectors
Dew Point Sensor withstands aggressive applications.
Press Release Summary: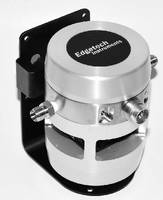 Designed for demanding process and laboratory applications, X3 Sensor uses chilled mirror technique to directly measure dew/frost point and provides absolute knowledge of moisture content. Unit may be air cooled or liquid cooled with range to -90°C frost point. Chemical resistant sensor is available in multiple configurations for measurement in aggressive background gases including ammonia, hydrochloric acid, peroxides, semiconductor process gases, medical gases, and other reactants.
---
Original Press Release:

Edgetech Instruments Introduces the X3 Chemically Resistant Chilled Mirror Dew Point Sensor for Aggressive Applications



The new Edgetech Instruments X3 chemical resistant chilled mirror sensor exploits the latest advancements in optical sensing and is specifically designed for demanding process and laboratory applications. It is available in multiple configurations to accurately measure dew point in aggressive background gases including ammonia, hydrochloric acid, peroxides, semiconductor process gases, medical gases, and other reactants.



The primary standard, chilled mirror technique directly measures dew/frost point and provides absolute knowledge of moisture content. As an added benefit, the X3 sensor's minimized sample cavity results in rapid dry-down times, fast response, and quick detection of upset process conditions. The X3 sensor may be air cooled or liquid cooled with a best-in-class range to –90°C frost point.



The X3 sensor is used with Edgetech Instruments' DewMaster hygrometer, bringing chilled mirror technology to aggressive applications where drift free, high precision dew point measurement was not previously possible. The DewMaster is a multi-function chilled mirror hygrometer for continuously monitoring the dew point temperature, parts per million water vapor by volume or percent relative humidity in gas streams. Applications range from use as a calibration standard to monitoring moisture content in continuous industrial processes.



The X3 sensor is also used with Edgetech Instruments' PDM75-X3 industrial duty portable hygrometer, integrating the accuracy and reliability of a chilled mirror hygrometer with the convenience and ruggedness required for field use. Customized sampling systems are available to accommodate the user's application requirements.



All Edgetech Instruments hygrometers are manufactured and supported in the USA in an ISO 9001 certified facility. All calibrations are traceable to NIST.



Edgetech Instruments designs and manufacturers accurate and reliable absolute humidity hygrometers, relative humidity transmitters, humidity probes, moisture analyzers, relative humidity calibrators, dew point generators and oxygen measurement instrumentation. Edgetech products are manufactured and calibrated to the highest industry standards in a modern facility located in Hudson, Massachusetts.



For more information contact:

Richard Nyce

Sales and Marketing Manager

Edgetech Instruments, Inc.

399 River Road, Hudson, MA 01749

T: 508-263-5900, F: 508-486-9348

E: h2o@edgetechinstruments.com

www.edgetechinstruments.com





More from Electrical Equipment & Systems