Device protects against RFID-related information theft.
Press Release Summary: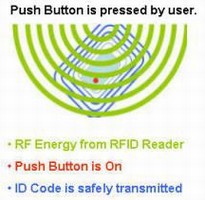 Utilizing open/closed circuit mechanism, user approval solution lets those carrying RFID-enabled ID cards, passports, and other short range items protect privacy of encoded information. Solution is comprised of embedded, miniature push button connected to RFID tag antenna. By pushing button, user connects RFID tag's antenna and enables tag operation. When ID card or passport is in pocket or bag, tag's reading is not possible since push button is not pressed.
---
Original Press Release:

Smartcode(TM) Corp. Solves the Privacy Issue Relating to Potential Unauthorized Reading of RFID Enabled Passports and ID Cards



SmartCode Corp. Research (SCR) has revealed the world's first working solution to reduce Privacy issues with the usage of RFID tags in ID Cards, Passports and other short range type of solutions. The Company Research arm, SmartCode Research (SCR) has demonstrated the world's first user decision process which is used to approve the user consent to identify themselves.

New York, NY. May 19, 2006. SmartCode Corp., the world's leading manufacturer of low cost, high performance RFID hardware solutions announced today that it had developed the first of its kind, low cost user approval solution to protect user privacy when using RFID enabled ID Cards, Passports and other short range RFID solutions.

Privacy issues has been recently discussed in regard to ID Cards and Passports which might be read without the holder's permission. To solve this problem, SmartCode Research has developed a unique solution that enhance the user privacy safekeeping and adds an additional layer of security to the RFID enabled ID Card or Passport. The solution comprises of an embedded, miniature push button which is connected to the RFID tag's antenna. The RFID tag cannot be read in any form unless the user approves the tag's RFID used for Age Verification reading by pressing the push button on the tag. By pushing the push button, the user connects the RFID tag's antenna and enable the RFID tag's operation. When the ID Card or Passport are in the user pocket or bag, the tag's reading is not possible as the push button is not pressed, thus ensuring the holder with a extremely high privacy and using the RFID tag only when needed. The simple open/closed circuit mechanism enables the user to protect himself against any possible threats such as reading the RFID tag without his authorization while in his pocket or in his bag.

"SmartCode(TM) Corp. is once again delighted to offer the world's first of its kind RFID solutions." said Avi Ofer, SmartCode(TM) Corp. President & CEO "As the world leader in low cost, high performance RFID solutions, we are taking special measures to ensure RFID solutions will work well in real life situations while protecting citizens' privacy. SmartCode Research is investing great resources in bringing stable, reliable and user friendly solutions to the market and we are happy once again to see our R&D team pushing the envelope when it comes to RFID innovation."

User Privacy is always kept !

The Department of Homeland Security Emerging Applications and Technology Subcommittee of the DHS Data Privacy and Integrity Advisory Committee have published a report titled "The Use of RFID for Human Identification". In the report the Committee have stated:

"Without formidable safeguards, the use of RFID in identification cards and tokens will
tend to enable the tracking of individuals' movements, profiling of their activities, and subsequent, non-security-related use of identification and derived information."

"individuals carrying RFID-tagged documents will have a difficult time determining when they are being identified and to whom. Unless people begin carrying radio frequency detectors or purses and wallets that are impermeable to radio frequencies, they will not know when the RFID chips in their identification cards are being scanned."

SmartCode Corp. is working with local, state and federal Governments to ensure the best available solutions for their applications while protecting citizen privacy. In recent years, a number of legislations have required the usage of RFID in citizens' documents including the Real ID act and US-VISIT program as well as the usage of RFID in Passports and ID Cards in the US, Europe and Asia. SmartCode as a recognized world leader in RFID, is addressing the needs of such RFID applications with special care with regard to the end user privacy protection and the governments' increased security measures in operating the programs. The new push button solution is designed to offer the benefits of using low cost, high performance RFID solutions for citizen identification with an increased emphasis for the citizen's privacy and security.

About SMARTCODE CORP.

SmartCode(TM) Corp. is a world leading low cost, high performance EPC RFID manufacturer with revolutionary, patented, and cost effective RFID manufacturing processes. Our patented technologies enable the manufacturing of very large quantities of RFID tags at a fraction of the cost of today's traditional RFID processes. SmartCode(TM) Corp. introduces a cost-effective approach to dramatically reducing our clients Total Cost of Operation (TCO) thus increasing their Return On Investment (ROI). Highly affordable RFID solutions from SmartCode(TM) enable companies to receive 100% real time visibility of their products across their entire supply chain. SmartCode(TM) Corp. is headquartered in New York, NY with offices in London, Silicon Valley, London, Hong Kong and a R&D Center in Tel-Aviv, Israel.

Learn more about SmartCode Corp. at www.smartcodecorp.com

SmartCode(TM) RFID Company(TM) Pure Play RFID(TM) and EPC G2(TM) are Trademarks or Registered Trademarks of SmartCode Corp. Other marks used are trademarks or service marks of their respective owners.

More from Printing & Duplicating Equipment