Device Programmer works in field without computer.
Press Release Summary: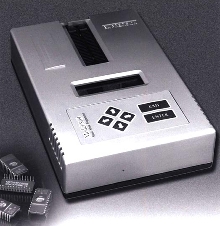 Model 869 programs, tests, repairs, or re-programs any electronic device using memory IC either connected to computer, or in field without computer. Universal Stand Alone Device programmer has 4,322 device library, which supports PROMs, EPROMs, PLDs, and Microcontrollers. Test capabilities include IC test for TTL and CMOS Logic ICs and Device Insertion Tests. Windows-compatible software interface has pull-down menus and pop-up dialogue boxes.
---
Original Press Release:

B & K Precision(R)'s New Universal Stand Alone Device Programmer


PLACENTIA, Calif., February 28, 2002 -B+K Precision Corporation, one of the industry's leading suppliers of test and measurement products, today introduced the Model 869 Universal Stand Alone Device programmer. Extremely flexible, this device has been designed to program chips while connected to a computer, or in the field without the use of a computer. With pricing starting as low as $995.00, B+K Precision's newest Universal Stand Alone Device Programmer is a must for anyone that tests, repairs, programs or re-programs any electronic device using a memory IC either at a bench or in the field.

The Model 869 utilizes B+K Precision's extensive device libraries that are constantly being updated and support a large number of devices including PROMs, EPROMs, PLDs, and Microcontrollers. B+K Precision also offers an extensive line of socket adapters to interface with just about any IC package including PLCC, SOIC, TSOP, DIP, TQFP, SSOP, PSOP, or QFP.

"Affordable, Fast, Dependable, Reliable, and Portable are the words I would use to describe our new Universal Stand Alone Device Programmer," said Victor Tolan, President of B+K Precision Corporation. "We only use vendor approved Windows(TM) based software to assure successful programming, and our extensive libraries, which are constantly being updated to reflect the latest in technology, are easily accessed from our Web site. The Model 869's outstanding accuracy, flexibility and price/performance makes it an ideal choice for programming EPROM, EEPROM/Flash, Serial EPROM, Microcontroller, PLD and BPROM devices."

The Model 869 also offers limited test capabilities including IC test for TTL and CMOS Logic ICs, and Device Insertion Tests, and provides auto-generation of an electronic serial number.

Unlike the other models in our extensive line of Universal Device Programmers, the Model 869 can be used to program a chip without the use of a computer. A computer is required to set up the programmer and load drivers for the chips being programmed. However, after the drivers are installed, the Model 869 can be taken out into the field and used to program chips. It can also be used as a standard Universal Device Programmer when connected via the parallel (printer) port to any IBM-compatible desktop or notebook computer. The unit's Windows compatible, menu-driven software interface makes it easy to operate. The software features pull-down menus, pop-up dialogue boxes and onscreen help.

The Model 869 Universal Stand Alone Device Programmer comes with a 48-pin ZIF socket that eliminates the need of an adapter for any DIP device up to 48 pins. However, B+K Precision does maintain an extensive line of socket adapters to interface with any IC package, if required. The Model 869 offers outstanding Buffer features including Erase, Random Data Fill, Fill Block, Copy Block, Move block, Swap Block, Buffer print, Find Text, Replace text, 8-Bit and 16-Bit View Modes, Go To Address, and Checksum Calculator. The units are Windows 95/98/Me/NT/2000(TM) compatible and come equipped with a standard parallel printer port interface.

The Model 869, with a library of 4,322 devices, is priced at a low $995.00 and is available for immediate delivery. It comes complete with software (with the user manual in digital format), AC adapter and parallel cable.

For over 50 years, B+K Precision Corporation has developed a reputation for excellence in the design and manufacture of high quality, reliable and cost-effective test and measurement products. Recognized for their price-performance value, ease of use, measurement accuracy and application flexibility, B+K Precision Corporation products are available worldwide through a global network of authorized distributors.

For additional information or the name and location of an authorized distributor near you, contact B+K Precision Corporation, 1031 Segovia Circle, Placentia, California, 92870-7137, Tel: (714) 237-9220, Fax: (714) 237-9214 or visit our Web site at www.bkprecision.com

More from Materials