Device automatically enters and tracks tooling information.
Press Release Summary: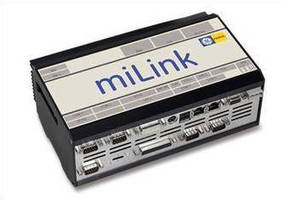 After reading tooling information from RFID chip on tool holder, miLink Tool ID moves information into appropriate registers in CNC control without modifying control in any way. Unit can be reconfigured to handle different memory map if customers want to add or delete data that is being stored on RFID tag. Available for any GE Fanuc CNC equipped with Ethernet port, miLink Tool ID provides 4 operating modes: Auto Read, Auto Write, CNC Control, and External.
---
Original Press Release:

GE Fanuc Intelligent Platforms Introduces First miLink Application - Tool ID -- Providing Built-In Tooling Data With No Engineering Required



Tool ID automates entering and tracking of tooling information, saving time and cost

Charlottesville, VA, September 16, 2009 - GE Fanuc Intelligent Platforms, a unit of GE Enterprise Solutions, today announced the first miLink application, Tool ID, designed to read the tooling information from the RFID chip on the tool holder, and move the information into the appropriate registers in the CNC control without having to modify the CNC control in any way. It enables an end user to cost effectively implement technology to automate their processes where the integration cost would have previously been prohibitive. Additionally, miLink allows the flexibility to reconfigure the application in just minutes to fit with the ever-changing needs of the manufacturing environment.

"miLink is a breakthrough productivity tool designed to reduce time and expense for manufacturers by automating core processes and simplifying device connectivity and set up," said Gary Highley, Manager, Factory Automation Solution Technology (FAST) for GE Fanuc Intelligent Platforms. "It is so easy that I can install it in 30 minutes, and configure it for operation in an additional 15 minutes. No further engineering required. We are replacing a significant amount of engineering time and effort with a black box."

With miLink Tool ID, customer engineering is no longer required. The unit can be reconfigured to handle a different memory map if customers want to add or delete data that is being stored on an RFID tag. This will not require another custom job, which generally involves writing a spec and bidding it out in addition to the actual implementation. Whether the application is simply auto loading of offsets, or complex tool management and quality control, miLink is easily configured to meet those needs.

"Companies now, more than ever, need to find ways to reduce manufacturing costs, and reduce the amount of manual effort that is associated with producing a part or product," continued Highley. "One way to reduce the manual effort applied, and reduce scrap rates, is to automate the process of entering and tracking tooling information, such as tool dimensions, offsets, and tool life. Automating this process reduces scrap by eliminating manual data entry errors, and reduces manpower required by eliminating the need for an operator to do any tooling setup, such as measuring, and manually tracking life. This can be accomplished easily by using RFID data tag technology that exists today."

miLink has four different operating modes to adapt to specific application needs:

o Auto Read - Reads RFID data when the chip present signal is received. Useful when you want to eliminate the need for human interaction and you can mount a read head in a tool changer.

o Auto Write - Writes the RFID data when the chip present signal is received. Useful for pallet transfer applications when palletizing finished parts.

o CNC Control - Read and Write operations can be performed under CNC control from the part program. Useful if you need to read and write data such as tool life if you commonly switch tools between machines.

o External - Maps the read and write commands to an external switch or operator panel button, allowing the operator to push a button to initiate the read or write cycle. You can use any button or switch that is attached to either the CNC I/O points, or the miLink dedicated I/O points.

Installation of this unit does not require any modification to the machine tool control. And, miLink is available for any GE Fanuc CNC that has an Ethernet port.
For more information: gefanuc.com/cnc.

About GE Fanuc Intelligent Platforms

GE Fanuc Intelligent Platforms, a joint venture between General Electric Company (NYSE: GE) and FANUC LTD of Japan, is an experienced high-performance technology company and a global provider of hardware, software, services, and expertise in automation and embedded computing. We offer a unique foundation of agile, advanced and ultra-reliable technology that provides customers a sustainable advantage in the industries they serve, including energy, water, consumer packaged goods, government & defense, and telecommunications. GE Fanuc Intelligent Platforms is a worldwide company headquartered in Charlottesville, VA and is part of GE Enterprise Solutions. For more information, visit www.gefanuc.com.

About GE Enterprise Solutions

GE Enterprise Solutions elevates customers' productivity and profitability with integrated solutions using sensors and non-destructive testing; security and life safety technologies; power system protection and control; and plant automation and embedded computing systems. Enterprise Solutions' high-tech, high-growth businesses include Sensing & Inspection Technologies, Security, Digital Energy, and GE Fanuc Intelligent Platforms. The business has 17,000 problem-solving employees in more than 60 countries around the world.

All trademarks are the property of their respective owners.

Elli Holman

GE Fanuc Intelligent Platforms, Public Relations Manager

Phone: +1 508 698 7456

Mobile: +1 508 298 8306

Email: elli.holman@ge.com

Related