Development Kit integrates lithium batteries into products.
Press Release Summary: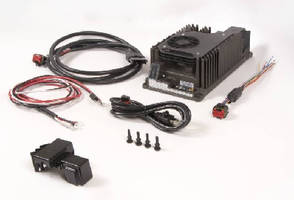 With goal of supporting lithium powertrain system development, Lithium Charger Development Kit includes 24 or 48 V Delta-Q IC1200 battery charger; pre-loaded lithium charge profiles supporting Li-ion, Li-Poly, or LiFePO4 cell and pack capacities; and set of power and communication cables. Charger accepts commands from battery management system through Closed/Open contact or CANopen communications. Applications include electric motorcycles, utility vehicles, lift trucks, and floor care machines.
---
Original Press Release:

Delta-Q Technologies Introduces Lithium Charger Development Kit at the Battery Show to Accelerate Product Development of Electric Vehicles and Industrial Equipment



BURNABY, BC,  - Delta-Q Technologies, a leader in battery charging solutions for electric drive vehicles and industrial equipment, today announced the debut of its lithium integration kit to battery companies, original equipment manufacturers (OEMs), and battery management system (BMS) manufacturers at The Battery Show in Novi, Michigan.



LITHIUM CHARGER DEVELOPMENT KIT

With the goal of supporting lithium powertrain system development, Delta-Q's lithium charger development kit includes:



Hardware and Software:



Delta-Q IC1200 battery charger in 24-or 48V, equipped with CAN communication

Pre-loaded lithium charge profiles supporting various lithium-ion (Li-ion), lithium polymer (Li-Poly), or lithium iron phosphate (LiFePO4) cell and pack capacities

A set of appropriate power and communication cables



Custom Training and Technical Support:

Customized training and consulting sessions by Delta-Q's application engineering team

Development of custom and optimized charging profiles

Quick start guides, detailed programming, and design documentation



"The price difference between lithium-ion and lead-acid is getting smaller. Applications such as electric scooters, motorcycles and lift trucks have favorable economics for lithium integration when the total cost of ownership is considered. Given the performance and cycle life advantages of lithium-ion, this is the right time for a customer-friendly kit to help design engineers integrate lithium batteries into the next generation of products," said Trent Punnett, vice president of sales, product management and marketing at Delta-Q Technologies.



Free kits are available to qualifying battery companies, OEMs and BMS manufacturers. More information, including a request form for a free kit, is available on Delta-Q.com/lithium-kit.



SAFETY FEATURES

The IC1200 charger is capable of accepting commands from the BMS through two methods – Closed/Open contact or CANopen communications. These methods enhance the battery system safety and efficiency with the lithium system's communications protocols.  In addition to extensive built-in safety functions, the charger also uses CAN authentication protocols to provide an extra layer of reliability, ensuring only authorized chargers are working with the lithium system.



The BMS can program the charger to deliver the requested voltage and current enabling efficient charging for optimal battery performance. Battery system behavior and safety can be evaluated by analyzing the data stored in the charger, downloadable through the built-in USB host port, or transmitted through the CAN network.



The IC1200 is part of Delta-Q's IC Series battery charger line, a series of compact, sealed and lightweight chargers ideal for on-board or off-board applications and frequently used for electric motorcycles and scooters, utility vehicles, lift trucks and floor care machines.  Up to 25 pre-loaded charge profiles are selectable by pressing a button on the charger.



Designed and built for superior onboard reliability, Delta-Q chargers have an IP66-rated enclosure to seal out dirt and fluids, while mechanical design and component selection help resist factors such as vibration, shock and temperature extremes.



The Battery Show is held at the Suburban Collection Showcase from September 13-15, 2016. Delta-Q is exhibiting in booth 1518.



About Delta-Q Technologies

Delta-Q Technologies is a leading provider of battery charging solutions that improve the performance and reliability of electric drive vehicles and industrial equipment. The company has become the supplier of choice to many of the world's leading manufacturers of electric golf cars, lift trucks, aerial work platforms, motorcycles and scooters, floor care machines, and utility and recreational vehicles. Delta-Q is headquartered in Vancouver, Canada with a local presence in the U.S., Europe and Asia. For more information, please visit www.delta-q.com.



CONTACT: or to schedule a meeting, please contact: Amanda Yeo, Product Marketing Specialist, Delta-Q Technologies, Phone: +1.604.327.8244, E-mail: marketing@delta-q.com;  Danielle Zarrella, Communiqué PR, Phone : +1.206.282.4923 ext. 124, E-mail : danielle@communiquepr.com

More from Paints & Coatings