Development Kit helps create Cortex-based applications.
Press Release Summary: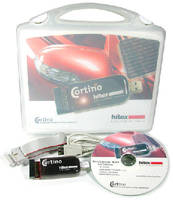 Comprised of complete development suite with HiTOP IDE and GNU Cortex compiler, Cortino can be customized to developer's unique needs with additional software options and specialized application packages. It also comes with full functional instruction set software simulator and JTAG debug interface for ARM Cortex-M3 MCUs and is debug project-compatible to ARM MDK and IAR Workbench. Solution supports all standard debugging functions as well as upgrade to Tantino for Cortex JTAG tool.
---
Original Press Release:

Professional Creator of Cortex Applications



Hitex expands its comprehensive product portfolio for the development of Cortex-based applications by launching Cortino - the professional creator of Cortex applications.

The cost-effective Cortino allows a quick development start and can be customized to the developer's needs with additional software options and specialized application packages.

The system comprises a complete development suite with HiTOP IDE and fully integrated GNU Cortex compiler. Further characteristics include full functional instruction set software simulator and JTAG debug interface for ARM Cortex-M3 microcontrollers.

Cortino is debug project compatible to ARM MDK and IAR Workbench and supports all standard debugging functions like source code debugging, hard- and software breakpoints, data watchpoints, single-step, register and memory view and flash programming. Also an easy upgrade to the powerful "Tantino for Cortex" JTAG tool is possible providing additional features such as data trace, trace of application events as well as application performance measurement.

Cortino and "Tantino for Cortex" include comprehensive development support for the latest Cortex derivatives from NXP, STMicroelectronics and Luminary Micro.

For more details, please contact:
Germany
Hitex Development Tools
Greschbachstr. 12
D-76229 Karlsruhe, Germany
Internet: http://www.hitex.de/www.hitex.com

Customer Inquiries
Peter Donde
Phone: +49/721/9628-143
Fax: +49/721/9628-149
E-mail: sales@hitex.de

Europe
Hitex Development Tools
Greschbachstr. 12
D-76229 Karlsruhe, Germany
Internet: http://www.hitex.de/www.hitex.com

Customer Inquiries
International Sales
Phone: +49/721/9628-0
Fax: +49/721/9628-149
E-mail: sales@hitex.de

USA
Hitex Development Tools
2062 Business Center Drive, Suite 230
Irvine, CA 92612
Internet: www.hitex.com

Customer Inquiries
Phone: (800)-45HITEX
Phone: +1/949/86 30 320
Fax: +1/949/86 30 331
E-mail: sales@hitex.com

More from Electrical Equipment & Systems