Development Kit fosters video adoption within IoT products.
Press Release Summary: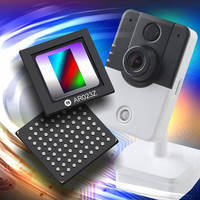 With wake-up initiated by BLE or motion-detecting integrated passive IR sensor, MatrixCam™ video development kit (VDK) offers smart streaming capability. Push notification, sent to assigned portable electronic device upon wake-up, alerts user that live stream or still image should be viewed. Able to connect to cloud services, this open imaging platform for low-power video streaming applications leverages AR023Z 1/3 in. format CMOS image sensor and offers multiple interconnectivity options.
---
Original Press Release:

ON Semiconductor Unveils 1080p Video Development Kit for IoT



Fully integrated Video Development solution delivers low power 30 fps intelligent streaming over Wi-Fi and Ethernet



PHOENIX, Ariz. – ON Semiconductor (Nasdaq: ON), driving energy efficient innovations, has introduced an open imaging platform for low power video streaming applications. The MatrixCam™ video development kit (VDK) has been developed specifically to encourage greater video adoption within Internet of Things (IoT) products, as well as accelerating OEMs' time to market. Among its key applications are home automation systems, building access devices, baby monitors, advanced lighting controls and smart appliances. MatrixCam video development kit hardware and software design documents are available for download from ON Semiconductor and its partners portal.



The MatrixCam VDK offers smart streaming capability, with wake-up being initiated by Bluetooth Low Energy (BLE) or through the motion-detecting integrated passive infrared sensor. Upon wake-up, a push notification is sent to an assigned portable electronic device (smartphone, tablet computer, etc.) alerting the user that a live stream (or a still image) should be viewed. It can connect to cloud services such as Amazon Web Services and Google Cloud Platform, with support for both video-on-demand and live streaming. The VDK can be configured via a simple web-based Graphical User Interface, or using a dedicated mobile application.



Numerous interconnectivity options are built into the MatrixCam platform - including Wi-Fi (802.11b/g/n), Ethernet (10/100 megabit/second) and BLE. It features the company's AR023Z 1/3-inch format CMOS image sensor which has a 1928 (V) x1088 (H) resolution active-pixel array that provides industry-leading low light performance.



"The MatrixCam video development kit is a complete production-ready camera solution for IoT," states Radhika Arora, IoT Product Line Manager, Automotive Imaging and Scanning Division at ON Semiconductor. "This highly optimized platform showcases ON Semiconductor's superior imaging technology and accelerates customers' ability to deliver cutting-edge solutions to the IoT market."



Pricing

The MatrixCam video development kit documentation, BOM and software are available at www.onsemi.com/matrixcam.  Prototype units are available for sale priced at $400 per unit.



Follow @onsemi on Twitter: www.twitter.com/onsemi.



About ON Semiconductor

ON Semiconductor (Nasdaq: ON) is driving energy efficient innovations, empowering customers to reduce global energy use. The company is a leading supplier of semiconductor-based solutions, offering a comprehensive portfolio of energy efficient power and signal management, logic, standard and custom devices. The company's products help engineers solve their unique design challenges in automotive, communications, computing, consumer, industrial, medical and military/aerospace applications. ON Semiconductor operates a responsive, reliable, world-class supply chain and quality program, and a network of manufacturing facilities, sales offices and design centers in key markets throughout North America, Europe, and the Asia Pacific regions. For more information, visit http://www.onsemi.com.



ON Semiconductor and the ON Semiconductor logo are registered trademarks of Semiconductor Components Industries, LLC. All other brand and product names appearing in this document are registered trademarks or trademarks of their respective holders. Although the company references its Web site in this news release, such information on the Web site is not to be incorporated herein.



Contacts

Veronika Holscher

Media Relations

ON Semiconductor

(408) 660-2688

Veronika.Holscher@onsemi.com



Parag Agarwal  

Vice President Investor Relations

ON Semiconductor

602 244-3437

Parag.Agarwal@onsemi.com



Issued by:

Hannah Hines

Pinnacle Marketing Communications Ltd

Tel: + 44 (0) 20 8429 6547

Email: h.hines@pinnaclemarcom.com

Web: http://www.pinnacle-marketing.com

Related