DEUBLIN AutoSense Unions for CNC Machining Centers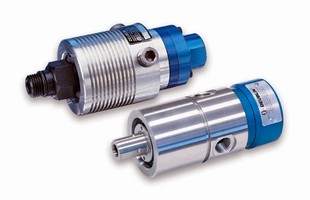 WAUKEGAN, IL-DECEMBER, 2007 - Deublin Company announces a revolutionary new technology for CNC machining centers. Deublin AutoSense(TM) coolant unions employ a patent-pending technology that automatically senses the type of media, whether coolant, air or MQL.

AutoSense unions are engineered for use with the most sophisticated CNC technology, where machines use multiple types of media, at high pressures and speeds up to 60,000 rpm. User benefits include longer tool life, improved surface finish, increased production, improved chip control and extended seal life.

A proprietary seal design senses the media, and in the presence of pressurized coolant, the seals actuate, operating like a conventional mechanical seal, and transfers coolant to the spindle. In the presence of pressurized air or MQL, the seals operate with a microscopic gap. A mode of operation called "controlled leakage", that prevents contact between seals. In the absence of any pressurized media, the seals "pop-off", allowing indefinite dry run.

In addition to automatic sensing, the coolant union design features optimized flow, which prevents deposit of metal chips and dirt, along with bearing protection and wear resistant silicon carbide seals. The unions are available in rotor or bore-mounted options for a range of typical connection sizes. Custom sizes and configurations are available on request.

A complete catalog of coolant unions for machine tool applications is available with reference information, selection criteria and ordering information.

Deublin is the leading manufacturer of precision rotating unions for water, steam, air, hydraulic, vacuum, coolant and hot oil service. With manufacturing and/or sales offices in 17 countries worldwide, Deublin international headquarters are located at 2050 Norman Drive West, Waukegan, IL 60085-6747 USA Phone: 847.689.8600 Fax: 847.689.8690 www.deublin.com.

More from Sensors, Monitors & Transducers