Detector provides circumvention against nuclear blast.
Press Release Summary: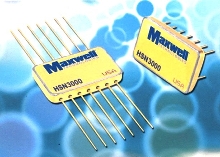 Nuclear Event Detector (NED) senses ionizing radiation pulses with very low detection levels that are adjustable, then generates signal that is transmitted to processor or logic device. Device then controls hardware that may be susceptible to radiation exposure, thereby preventing upset and/or permanent damage. NED differentiates between actual nuclear event and power up, preventing false detections. It is current limited via internal resistor to prevent burnout.
---
Original Press Release:

MAXWELL INTRODUCES COMPONENT LEVEL SOLUTION THAT PROVIDES SYSTEM LEVEL DETECTION & CIRCUMVENTION AGAINST NUCLEAR BLAST


Nuclear Event Detector (NED) is Heart of System Circumvention

SAN DIEGO, CA -- Maxwell Technologies, Inc. today announced its Nuclear Event Detector (NED) - a prompt ionizing radiation detector at the heart of system circumvention. Maxwell's NED detects ionizing radiation pulses with very low detection levels that are adjustable, then generates a signal which is transmitted to a processor or logic device. This device then has the ability to control hardware that may be susceptible to radiation exposure, thereby preventing upset and/or permanent damage to the respective hardware.

According to Dr. Richard Balanson, President and COO of Maxwell Technologies, dose-rate hardness is placed on the system's architectural design, rather than on all of the components
themselves. Overall system survivability is greatly improved through controlled performance, shutdown, and recovery.

"In addition, Maxwell's NED continues the line of leading-edge space technologies driven by our new product strategy of guaranteed performance, guaranteed radiation tolerance, and guaranteed life-of-the-application availability for the space and military markets," said Balanson. "We believe this product for system circumvention - which has the added value of this
guarantee - should provide our customer's a significant cost savings over other approaches."

Designed to detect surges in radiation levels following a nuclear blast, Maxwell's NED was designed initially for the military market. The NED is able to operate through three critical environments: Ionizing dose rate; gamma total dose; and neutron fluence, and comes in a small package outline. The NED's protection of critical circuits allows the use of components that
could otherwise not be implemented in military applications due to their susceptibility to radiation while powered.

"Upon detection of a nuclear event, our NED initiates protection and recovery by controlling critical hardware, while enabling software recovery procedures," said Larry Longden, Maxwell's Senior Director of Technology and Marketing. "Another advantage of the NED is its ability to distinguish between an actual nuclear event and power up, thereby preventing false detections and the subsequent problems such occurrences may cause."

Maxwell's NED also incorporates some enhancements to increase the overall value to the customer. The NED is built from die that has been qualified and characterized, with either guaranteed or designed-in hardness, and is also current-limited via internal resistors to prevent burnout. Built-in-self-test is available on all models. Because of its nuclear event detection
ability, Maxwell's NED provides yet another excellent opportunity for the company to expand its role in the military space market.

Maxwell's NED provides yet another excellent opportunity for the company to expand its role in the military space market by complementing Maxwell's use of qualified commercial die,
and building upon its numerous radiation mitigation approaches.

Maxwell Technologies manufactures and markets high-reliability power and computing components and systems and automated test instruments. The company's microelectronic products include power modules, integrated circuits and single board computers that combine commercial-off-the-shelf (COTS) components and Maxwell's proprietary radiation mitigation technology to provide optimal performance and reliability in aerospace, military and other applications. Maxwell's PowerCache(TM) ultracapacitors are high-density energy storage cells that deliver bursts of high power on demand in applications such as automotive electrical systems and power trains, wireless communications and consumer and industrial electronic devices. The company's instrument products include automated accelerated reliability test systems (AARTS) for RF and photonic components. For more information, please visit the company's web site: www.maxwell.com.

Editorial Contact:
Barney McComas
Maxwell Technologies, Inc.
9244 Balboa Avenue
San Diego, CA 92123
Tel: +1 (858) 503-5112
Fax: +1 (858) 503-3322
E-mail: bmccomas@maxwell.com

Sales Contact:
Marty Lanning
Maxwell Technologies, Inc.
9244 Balboa Avenue
San Diego, CA 92123
Tel: +1 (858) 503-3328
Fax: +1 (858) 503-3333
E-mail: mlanning@maxwell.com

Technical Contact:
Chad Thibodeau
Maxwell Technologies, Inc.
9244 Balboa Avenue
San Diego, CA 92123
Tel: +1 (858) 503-3307
Fax: +1 (858) 503-3311
E-mail: cthibodeau@maxwell.com

More from Material Handling & Storage