Dessicator relieves pressure from sealed enclosures.
Press Release Summary: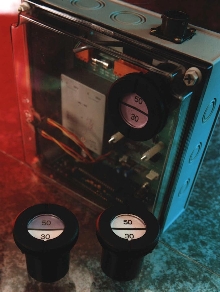 Brownell breathing desiccator maintains controlled humidity environments to eliminate excessive differential pressures. It allows passage of air or gasses, but adsorbs moisture molecules. Integral humidity indicator (available on some units) can signal when moisture adsorbing desiccant is saturated and requires replacement. Breathing dessicator is available in various sizes to protect enclosures with volumes from .35 to 21.2 cubic ft.
---
Original Press Release:
Breathing Dessicators Take Pressure Off Sealed Enclosures

Tucson, AZ. Brownell breathing desiccators, now available from AGM Container Controls, Inc., solve the problem of eliminating excessive differential pressures within sealed enclosures that can damage either the containers or their contents.

Pressure differentials within sealed enclosures can be caused by temperature, altitude and barometric pressure changes, or even simply by the operation of the enclosure's internal equipment. These pressure differentials can adversely affect such products as membrane keyboards, telescopic sights, azimuth sealed equipment, plastic enclosures, as well as other lightweight containers.

A breathing desiccator maintains a controlled humidity environment. It allows the passage of air or gasses, but adsorbs the moisture molecules as the air or gas passes through the desiccator. Some units can be provided with integral humidity indicators which signal when the moisture adsorbing desiccant is saturated and requires replacement.

These desiccators are available in a wide range of sizes, protecting enclosures with volumes from .35 up to 21.2 cubic feet.

Further Information and Reader Inquiries:

Jim McCorry, Sales Manager, AGM Container Controls, Inc.

3526 E Fort Lowell Road, PO Box 40020, Tucson, AZ 85717-0020

Tel: 800-995-5590/520-881-2130 Fax: 520-881-4983
E-mail: sales@agmcontainer.com Web: www.agmcontainer.com
More from Fluid & Gas Flow Equipment