Despatch Announces Reduced Lead Times for PBC Burn-in Ovens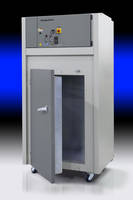 Minneapolis, Minnesota, USA, March 20, 2018 – ITW EAE, a division of Illinois Tool Works announces that it is reducing lead time on Despatch PBC Burn-in Ovens to six weeks. This was accomplished by optimizing its manufacturing processes to allow for in-lining of production equipment and assembly stations that improve flow and minimize production time. The PBC was also redesigned to simplify the manufacturing process while improving product performance.
"Customers have increasingly confirmed that lead time is a significant factor when deciding what oven to purchase," states Jeff Bell, Despatch Product Manager. "Despatch has already reduced lead times on many of our most popular ovens and we continue to work to achieve shorter leads times on all products."
Despatch burn-in ovens are engineered specifically for applications such as high dissipation forward bias, high-temperature reverse bias, dynamic and static burn-in of IC, RAM, ROM, microprocessors and other semiconductor devices. High volume recirculating fans maintain consistent, uniform temperatures required by MIL STD 883D while removing heat generated by the load. The PBC burn-in oven allows for traditional horizontal loading with side-to-side horizontal airflow providing exceptional temperature uniform across the load.
Despatch is a brand of ITW EAE, a division of Illinois Tools Works, Inc. They are a global leader in high performance industrial ovens and other thermal products used for a host of critical applications, focusing on the electronics, healthcare, materials, transportation and industrial markets. Despatch also serves as a key provider of integrated technology for the emerging solar and carbon fiber markets. For more information about Despatch visit www.despatch.com.