Desktop Thermal Printer produces industrial labels.
Press Release Summary: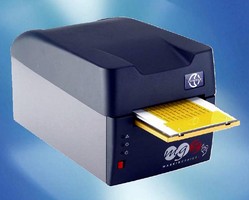 MARKINGenius2 identification and labeling system can print labels for wire and cable, legends for switches and pilot lights, and contactors and markers for terminal blocks. Printing with Windows True type fonts in black or color, compact, high-speed printer can print over 1,000 labels with up to 8 char each in 6.5 min. Control software includes economizer function that allows monochrome ribbon to print over 150,000 labels before replacement.
---
Original Press Release:

MARKINGenius2 Identification and Labeling System



Carlisle, Pa- Automation Systems Interconnect, Inc. is pleased to introduce the next model of our popular MARKINGenius, the unique high-speed desktop thermal printer for industrial labels. The MARKINGenius2 is quieter and faster then the original model and has been designed to print identification labels for all sizes of wires along with numerous other electrical components.

The MARKINGenius2 is a high resolution, high speed printer based on thermal transfer technology. It is capable of producing markers for wires and cables, legends for panel components such as switches, pilot lights and contactors and markers for all of the most popular terminal blocks on the market. All of these various types of labels, legends and markers are printed with minimal changes and set-up to the machine and they can be printed with Windows True type fonts in black or in color. The MARKINGenius2 is even capable of reproducing Clipart images, Logos, drawings, barcodes, and bitmaps down to very small sizes making it ideal for printing informational labels for equipment and panels.

Compact, ergonomic, clean and silent operation make the MARKINGenius2 ideal for locating and operating the machine in an office, like any other peripheral. At ten times faster than a regular plotter system, the MARKINGenius2 can print over 1,000 labels with up to 8 characters each in only 6.5 minutes. The software controlling the printer features an "economizer" function that makes maximum use of the entire monochrome ribbon so that it can easily print over 150,000 labels before replacement.

Unlike plotter systems the MARKINGenius2 is one of the most flexible, easy to use industrial printing systems on the market. For example, this terminal printer is capable of printing on both flexible low-cost media such as wire markers or on rigid media such as terminal block, switch and panel labels. The carriage loading and unloading operations are rapid; support templates are easily and quickly interchanged, and as the pigment deposited on the label from the ribbon dries instantaneously, the printed labels are immediately ready to use.

The MARKINGenius2 is also now available through the equipment lease program which includes plotter systems, high speed wire marking systems and DIN rail cutters and it can be leased for as little as $129 per month. The complete selection of high quality printing systems is now complete and includes the Rolly 1000 wire label print system, the EZ Mark Plotter System and the new MARKINGenius2 with leases as low as $51.00 per month.

To learn more about the MARKINGenius2, the low-cost leasing program or to schedule a demonstration please visit our website at www.asi-ez.com or call the factory direct at 1-877-650-5160.


More from Agricultural & Farming Products