Desktop Expansion Enclosures suit noise-sensitive areas.
Press Release Summary: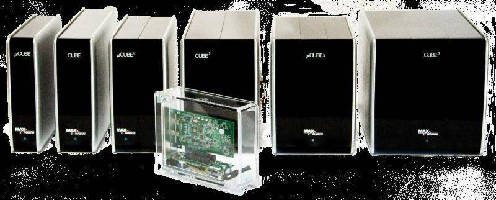 Attaching to computer through Thunderbolt™ or PCIe connection, The CUBE Series offers whisper-quiet, high-speed expansion. The nanoCUBE supports one PCIe short card up to 7.3 in., while µCUBE, µCUBE2, and µCUBE3 support up to 1, 3, and 5 short cards, respectively, up to 9.5 in. long. In addition, the CUBE, CUBE2, and CUBE3 support 2, 5, and 8 full-length PCIe cards, respectively. All are equipped with additional power cables for GPUs and sufficient power and cooling for demanding cards.
---
Original Press Release:

One Stop Systems Introduces The CUBE Desktop Expansion Enclosures at Macworld 2014 Booth #512



Thunderbolt™ or PCIe connectivity

Light-weight, whisper-quiet, high-speed expansion

Simple, reliable, and cost-effective

 

San Francisco, California- One Stop Systems, Inc. (OSS), the leader in expansion products, rolls out The CUBE, the latest in desktop expansion enclosures at Macworld 2014. This light weight, whisper-quiet appliance offers tremendous performance gains to a laptop or workstation by simply attaching to a computer through a Thunderbolt or PCIe high-speed connection. Flexible and versatile, The CUBE offers a variety of sizes to accommodate a number of PCIe cards to create the desired system.  The CUBE is especially ideal for noise-sensitive environments and can be used with both MAC and PC systems with comparable efficiency.



The CUBE family includes The nanoCUBE, µCUBE, µCUBE2, and µCUBE3 supporting PCIe short cards and The CUBE, CUBE2, and CUBE3 supporting full-length PCIe cards. The most compact of the family, the nanoCUBE supports one short card up to 7.3" long. The µCUBE, µCUBE2, , and the µCUBE3 all support up to 1, 3, and 5 short cards respectively up to 9.5" long.  In addition, the µCUBE is offered in a window version designed especially for board vendors that want to show their boards in operation.



The CUBE, CUBE2, and CUBE3 enclosures support up to 2, 5, and 8 full length PCIe cards respectively. The CUBE enclosures are especially useful for adding GPUs to your system. All are equipped with additional power cables for GPUs and sufficient power and cooling for the most demanding cards.



"OSS leads the market in producing PCIe rackmount expansion products like the 1U, 2U, and 3U enclosures, supporting up to sixteen GPUs in 3U rack space," says Steve Cooper, CEO. "Now we have taken our expertise in designing and manufacturing these products and created a new line of desktop expansion enclosures. These enclosures are designed specifically for applications that require lightweight and whisper-quiet systems that can easily and economically increase the functionality and performance of laptops and workstations, saving the user from having to purchase new computing systems that provide more slots. The variety of sizes, slot counts, power supplies, cooling, and connectivity options make The CUBE enclosures truly first-of-the-kind expansion systems. You can easily install the card of your choice in The CUBE and create a custom appliance for any application task. Install a Flash memory card in the mCUBE to create the ideal laptop companion for multimedia designers or any user that needs mobility and additional fast storage. The added advantage of using either Thunderbolt or PCIe connectivity allows the user a choice of high speed connections. Some applications may require the high speed connection of PCI Express, providing up to 128Gb/s data transfers with a PCIe x16 connection. Other applications may require the Display Port option that a Thunderbolt connection provides. Either way The CUBE is simple, reliable, and cost-effective."



The CUBE expansion enclosures are available in a variety of configurations and prices from $450 for the mCUBE with Thunderbolt or PCIe connections.  All products are available immediately on www.maxexpansion.com.



About One Stop Systems

See One One Stop Systems (OSS) pioneered PCIe expansion products and has been first-to-market with many of the PCIe cable adapters, expansion kits, and expansion systems available today. With an extensive engineering resource, experienced and trained in PCIe design, manufacture, and test, OSS also customizes our products to make them fit our customers' precise requirements. Custom and semi-custom products have long been OSS' core capability. OSS has a proven record of producing the highest quality products through superior engineering, ISO9001-2008 quality-driven production, and responsive pre- and post-sales. For more information, contact our sales department toll free at (877) 438-2724 and visit our web site at www.onestopsystems.com.



*The CUBE is a trademark of One Stop Systems, Inc. All rights reserved.

*PCI Express and PCIe are trademarks of PCI-SIG.

*Thunderbolt and the Thunderbolt logo are trademarks of the Intel Corporation in the US and other countries.



Media Contact

Katie Garrison

kgarrison@onestopsystems.com

One Stop Systems, Inc.

(760) 745-9883

More from Software