Desktop Computer features BTX form factor.
Press Release Summary: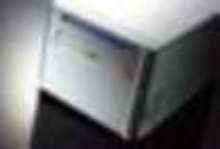 Built around Intel® 915G and ICH6-R chipset, Model XPC SB86i delivers Intel® Pentium® 4 processor compatibility, Intel® Graphics Media Accelerator 900, and x16 PCI Express graphics cards. It uses recyclable material and conforms to established industry standards. Scalability is provided through support for standardized components such as PSU, heat sink, and motherboard.
---
Original Press Release:
Shuttle XPC SB86i Delivers Standards Based Innovation

- The First BTX Form Factor Barebone Sets a New Standard for Performance and Value

Shuttle Inc, the leading designer and manufacturer of small form factor (SFF) computers and accessories, today introduces the XPC SB86i, the first commercial application of the BTX design specification. The latest in a long line of market and industry firsts for Shuttle, the XPC SB86i resets the bar for performance, style and value in the highly competitive home, SOHO and business desktop market segments.

"Shuttle's reputation for design excellence and build quality is unmatched," said CK Hung, CEO, Shuttle. "The SB86i is the benchmark for value in the emerging BTX marketplace."

Built around the Intel(R) 915G + ICH6-R chipset, the Shuttle XPC SB86i delivers affordable, performance-based computing to the market segments where it's needed most. With Intel(R) Pentium(R) 4 processor compatibility, and performance-enhanced Intel(R) Graphics Media Accelerator 900 (the only integrated solution to support Microsoft(R) DirectX(R) 9) and x16 PCI Express graphics cards, this BTX form factor barebone computer offers unprecedented power and value.

Enclosed in a fresh-look chassis, the "i", this model uses standardised, recyclable materials to deliver superior structural integrity. Designed to conform to established industry standards, the SB86i provides new levels of scalability through support for standardised components, such as PSU, heat sink and motherboard.

The XPC SB86i is expected to be available before the end of the year.

Specification SB86i:
http://eu.shuttle.com/en/DesktopDefault.aspx/tabid-72/170_read-10151/preview-1

Contact:

Shuttle Computer Handels GmbH

Bastian Fröhlig, PR-Manager

Fritz-Strassmann-Strasse 5

25337 Elmshorn

Deutschland

Tel.: +49-4121-476-835

Telefax: +49-4121-476-962

Email: presse@spacewalker.de

Internet link: www.shuttle.com