Desktop Adapters comply with DOE Level VI standards.
Press Release Summary: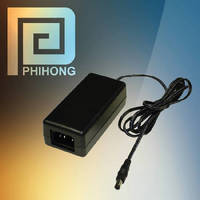 Available in 4 output voltages of 12, 15, 24, and 48 Vdc with input power saving of <0.075 W at no-load, PSAA18U Series is suitable for consumer electronics applications, including portable equipment, access devices, peripherals, and network hubs. Low-profile units have built-in over-voltage, over-current, and short-circuit protections. Housed in 4.06 x 1.93 x 1.32 in. non-vented case,18 Watt adapters operate from 0–40°C are available with C14 AC input connector.
---
Original Press Release:

Phihong Releases a New High-Efficiency, Low-Cost 18W Desktop Adapter Series



Compliant with DOE Level VI efficiency standards, & available in four outputs spanning 12–48V, the new PSAA18U Series adapters are suitable for use in a wide range of consumer electronics applications



Fremont, CA – Phihong USA, a leading global supplier of OEM power solutions, has introduced a new low-cost, low-profile 18W desktop adapter series that delivers higher efficiency performance than previous models. Designated the PSAA18U Series, the adapters are compliant with the US Department of Energy's (DOE's) new level VI energy efficiency requirements, featuring input power saving of <0.075W at no-load, and are available in four DC output voltages (12V, 15V, 24V and 48V), making them ideally suited for use in a wide range of consumer electronics applications, including: portable equipment, access devices, peripherals, and network hubs.



In addition to satisfying DOE Level VI and European Union Code of Conduct (CoC) V5, Tier 2 high-efficiency standards, the new 18W desktop adapters are also certified to UL/cUL, CE, and CB safety specifications, and have built-in over-voltage, over-current, and short-circuit protections.



"Consumer demands for smaller, lower-cost, and higher efficiency electronics have a direct influence on OEM's purchasing decisions, so we designed our new PSAA18U Series desktop adapters to satisfy all three demands for a range of consumer electronics devices requiring between 12V and 48V output power," said Keith Hopwood, vice president of Phihong.



PSAA18U Series desktop adapters have a non-vented case that measures 103mm (4.06") x 49mm (1.93") x 33.5mm (1.32"), weigh 140g (4.94oz), and are available with a C14 AC input connector. Operating temperatures for the series span 0° to +40°C, and allowable humidity spans 0–90%. Pricing for single-unit quantities starts at under $21.



For more information about Phihong's new PSAA18U Series desktop adapters, please visit https://phihong.com/assets/pdf/PSAA18U-L6.pdf to access the datasheet. For all other inquiries, please visit www.phihong.com, email sales@phihongusa.com, call 510.445.0100, or write to Phihong USA at 47800 Fremont Blvd., Fremont, CA 94538.



About Phihong

Phihong is a global leader in the development of world-class power solutions, with annual revenue of $500 Million. A leading supplier of power adapters, power supplies, LED drivers, lighting controllers, and Power over Ethernet products, Phihong proudly serves OEMs in the datacom, telecom, personal electronics, industrial, networking, and lighting markets, and has a truly global reach, with design labs, manufacturing facilities, and sales support centers in California, New York, The Netherlands, China, Japan, and Taiwan.



For more information, contact:

Allen Tsao

Distribution Sales Manager

Phihong USA

(510) 445-0100

allent@phihongusa.com

More from Architectural & Civil Engineering Products