Additive Manufacturing Systems
Desktop 3D Printer accommodates wide material selection.
Press Release Summary: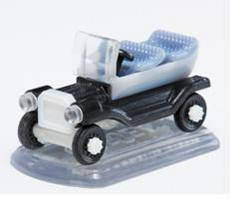 Delivering 28 micron print quality, Objet30 Pro can produce prototypes with choice of 7 different materials and functional properties. Solution employs REACH-compliant material cartridges and offers build tray size of 300 x 200 x 150 mm to meet requirements of prototype designers and engineers. With inkjet 3D printing technology, printer accommodates clear transparent material, high-temperature material, polypropylene-like material, and 4 rigid, opaque materials.
---
Original Press Release:

Objet Launches New Desktop 3D Printer at RAPID - Featuring Industry's Widest Material Versatility

New Objet30 Pro the World's Most Versatile Desktop 3D Printer With an Expanded Choice of Seven Different 3D Printing Materials


The Only Desktop System to Offer Clear Transparency and High Temperature Materials


Watch Objet30 Pro Short Movie

Rehovot, Israel - Objet Ltd , the innovation leader in 3D printing for rapid prototyping and additive manufacturing, has today launched the new Objet30 Pro - the most versatile professional in-house desktop 3D printer available on the market. Unveiled at RAPID, the new desktop 3D printer offers 7 different materials, including, for the first time on a desktop system, clear transparent material and high temperature resistant material.

The Objet30 Pro is positioned as the ultimate rapid prototyping solution for designers and engineers, ranging from industries such as consumer goods and consumer electronics to medical devices and design consultancies.

The Objet30 Pro takes its place as the new top-of-the-line addition to Objet's existing desktop 3D printer line which starts at $19,900*. With a small footprint, professional 28 micron print quality and wide ranging material versatility, the Objet30 Pro produces high quality prototypes with a choice of 7 different materials and functional properties, offering designers and engineers a world of possibilities:
- Objet clear transparent material (Objet VeroClear) for simulating PMMA/glass;
- Objet High temperature material for heat-resistant static functional testing;
- Objet polypropylene-like material (Objet DurusWhite) for simulating snap-fit parts; and
- Four rigid, opaque materials for standard plastic simulation (Objet Vero Family in black, white, gray, and blue).

"Having the correct tools and resources to advance our product development is critical for our organization," said Gregory Janice, Engineering Manager at Princeton Tec. "The Objet30 Pro's ability to print parts made with a clear transparent material on a desktop 3D printer combined with its ease of use and versatility made the Objet30 Pro a sound investment for our team."

Collcap Packaging Ltd., an Objet customer creating innovative cosmetic, perfumery and personal care packaging, has also been testing the new Objet30 Pro desktop 3D printer. Adam Smith, Technical Manager at Collcap, comments, "We knew a desktop machine would meet our capacity requirements quite happily, but for the packaging work we do, we really wanted the range of materials that has previously only been available with bigger machines. The clear transparent material for instance is ideal for prototyping our bespoke fragrance bottles and other glass or clear plastic products, whilst the range of colored rigid materials work perfectly for simulating plastic bottles, caps and fittings. The excellent surface finish and detail provided by the Objet30 Pro are also crucial so that our eye-catching designs look and feel as they're supposed to when we present them to our customers for approval."

"The Objet30 Pro is the next evolution in desktop 3D printers developed specifically for professional users", said David Reis, CEO of Objet. "This desktop 3D printer provides outstanding print quality with a choice of seven materials that until now could only be found in much larger, high-end 3D printers. The Objet30 Pro is the perfect combination of professional, versatile in-house 3D printing at an attractive price point," concluded Reis.

The Objet30 Pro will be on display at RAPID 2012 Conference and Exposition, Atlanta Georgia until May 25th.

Objet30 Pro Desktop 3D Printer - Additional Information for Media

The ultimate prototyping solution for designers and engineers

Ideal for consumer goods, consumer electronics, medical devices and design consultancies

Combines the accuracy and versatility of a high-end Rapid Prototyping machine with a small footprint

7 different materials; the world's only desktop 3D printer with clear transparent, high temperature, four rigid opaque and polypropylene-like materials.

Reliable, robust and easy to use

Based on Objet's advanced inkjet 3D printing technology, the Objet30 Pro Desktop 3D Printer offers an office-friendly design, with quiet operation and REACH-compliant material cartridges for convenient replacement.

The Objet30 Pro desktop system features a spacious build tray size of 300 x 200 x 150mm - suitable for printing various-sized and shaped models or multiple models on the same build tray at the same time.

The expanded material capabilities of the Objet30 Pro are available as an upgrade for existing Objet30 or Objet Alaris30 desktop 3D printer customers.

*Price for US. International pricing may vary. Price excludes VAT, taxes, duties, options, shipping and installation.

Resources for Media

Video: Objet30 Pro Movie - don't miss it!

Video: The "Making of" The Objet30 Pro Movie

Objet30 Pro media kit

Video: How to Assemble your Classic Car Model

Webpage

Objet30 Pro Desktop 3D Printer brochure (A4 / Letter size)

About Objet
Objet Ltd., is a leading provider of high quality, cost effective inkjet-based 3D printing systems and materials. A global company, Objet has offices in North America, Europe, Japan, China, Hong Kong, and India.

Objet's 3D printing systems and 3D printing materials are ideal for any company involved in the manufacture or design of physical products using 3D software or other 3D content. Companies using Objet's solutions can be typically found in sectors such as consumer goods & electronics, aerospace & defense, automotive, education, dental, medical and medical devices, architecture, industrial machinery, footwear, sporting goods, toys and service bureaus.

Founded in 1998, the company has thousands of customers worldwide including a substantial share of the relevant Fortune 100 and Fortune 500. Its award-winning technology (13 awards in 8 years) is based upon over 110 patents and patent pending inventions.

Objet's advanced 3D printing systems and range of about 70 materials enable professionals to build prototypes that accurately simulate the true look, feel and function of an end-product, even complex, assembled goods. The Objet Connex(TM) line of multi-material 3D printers features the world's only technology to simultaneously jet 2 materials. With this, users can print many different materials into a single part and print various mixed parts on the same build tray. Users can also create advanced composite materials, or Digital Materials(TM) featuring unique mechanical and thermal properties. Objet's range of about 70 3D printing materials simulate properties ranging from rigid to rubber-like, transparent to opaque and standard to ABS-grade engineering plastics, with a large number of in-between shore grades and shades.

Objet's 3D printers are available in a range of form-factors, from cost-effective desktop 3D printers ideal for entry-level professionals all the way to industrial-scale multi-material machines for front-line designers and top manufacturers. Objet's 3D printers feature the industry's highest-resolution 3D printing quality, based on 16-micron (0.0006 in.) super-thin layering, wide material versatility, office friendliness and ease of operation.

For more information, visit us at www.objet.com, and for more about 3D printing industry-related news, business issues and trends, read the Objet blog.

© 2012 Objet, Objet24, Objet30, Objet Studio, Quadra, QuadraTempo, FullCure, SHR, Eden, Eden250, Eden260, Eden260V, Eden330, Eden350, Eden350V, Eden500V, Job Manager, CADMatrix, Connex, Connex260, Connex350, Connex500, Alaris, Alaris30, PolyLog, TangoBlack, TangoGray, TangoPlus, TangoBlackPlus, VeroBlue, VeroBlack, VeroClear, VeroDent, VeroGray, VeroWhite, VeroWhitePlus, Durus, Digital Materials, PolyJet, PolyJet Matrix, ABS-like and ObjetGreen are trademarks or registered trademarks of Objet Ltd. and may be registered in certain jurisdictions. All other trademarks belong to their respective owners.

Objet Media Contact
USA
Todd Graff
Conover Tuttle Pace
Tel. +1-617-412-4000
Email. tgraff@ctpboston.com

More from Health, Medical, & Dental Supplies and Equipment