Designatronics, Inc. to Exhibit Mechanical Components and Motion Control Assemblies at AUVSI Unmanned Systems 2015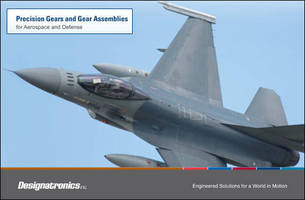 New Hyde Park, NY – Designatronics, a leader in comprehensive mechanical solutions for critical motion control applications will be exhibiting at AUVSI Unmanned Systems 2015, May 5-7, 2015 in Atlanta, GA. Located in booth 1249, Designatronics will be showing a variety of custom parts, standard components and assemblies used in unmanned systems on land, sea and air. Examples of precision gears and gear assemblies made by Sterling Instrument will be on display. Every gear made meets the aerospace standard, AS9100C. Also represented will be Stock Drive Products, specializing in small to miniature drive systems, QTC METRIC GEARS, and Quality Bearings Components.



Designatronics products are used in the commercial, industrial and defense industries. High-quality machined parts, molded components and custom gearing are built for applications including robotics, flight control actuation, missile guidance, surveillance, and positioning systems.



Designatronics provides complete mechatronic engineered solutions and services which include design, prototype, testing and manufacturing. Product experts will be available at the show to discuss attendee's specific applications. Literature will be available at the booth providing an overview of the company and its capabilities. Visit http://www.designatronics.com  to learn more about Designatronics, their full range of products and capabilities.



About Designatronics

Designatronics, Inc. manages its brands to develop comprehensive mechanical solutions for industrial and commercial markets, including aerospace and defense, satellites, automation, oil and gas, and medical. Integrated design, engineering and manufacturing are under one roof. Stock Drive Products offers both inch and metric off-the-shelf mechatronic components for the design engineer. Sterling Instrument makes high-quality precision gears and custom gear assemblies, prototype to large production runs. QTC METRIC GEARS supplies North America with metric gears. Quality Bearings Components – the bearing marketplace, offers bearings and bearing maintenance equipment.  For more information, visit www.designatronics.com.



More from Controls & Controllers