Desiccants and Molecular Sieves (Adsorbents)
Desiccant Gel Packs Increases Shelf Life of Food or Pharmaceutical Products
Press Release Summary: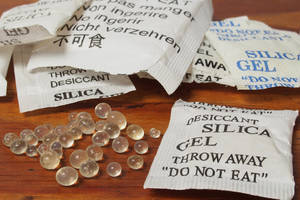 Protects electronic products, clothes and shoes from the effect of moisture/humidity
Ideal to absorb moisture/water as well as oxygen absorbers are used to absorb oxygen
Includes sorbent material shaped as pellets or grains, 1-5 mm in diameter
---
Original Press Release:
Improving Work Environment Producing Desiccants
Reducing dust with safe, gentle handling of a fragile product.
Hingham, MA – Desiccant gel packs are used to absorb moisture/water (desiccating the surrounding material). The typical function is to protect electronic products, clothes and shoes from the effect of moisture/humidity. Oxygen absorbers are used to absorb oxygen. The typical function is to increase shelf life of food or pharmaceutical products. Inside these gel packs is a sorbent, a material used to absorb liquids or gases. The sorbent is typically shaped as pellets or grains, 1-5 mm in diameter. As an example, sorbents can be found in granular shape in baby diapers.
Vacuum conveying is perfectly suited to manage the challenges of conveying these small, fragile materials. The contained conveying in an enclosed system minimizes dust generation, and consequently minimizes the exposure to the hazardous dust for workers. The need for a small foot print, low building height, and flexibility of routing the pipeline is a perfect match for Piab vacuum conveying solutions.
By automating the currently prevailing manual filling of hoppers, we provide a great opportunity for labor cost savings. Our ability to provide transition pieces, both standard and locally customized, gives us a benefit of providing ready to fit conveying equipment, which provides additional value to the users.
Capacity requirements when feeding the VFFS machines are typically in the several hundred lb/hour range, which means that our smaller conveyors are the most suitable for these applications. For the lowest building height, the piFLOW®p64 is recommended. If the building height is less of an issue, our smaller piFLOW® industrial range of vacuum conveyors can be used.
About Piab
Piab provides smart solutions for the automated world, helping thousands of end users and machine producers in e-commerce logistics, food, pharma, automotive and other manufacturing industries to improve energy-efficiency, productivity and working environments. With 430 employees and SEK 1bn in sales 2017, Piab is a global organization, serving customers in almost 70 countries from a network of subsidiaries and distributors. By leveraging the ongoing technological development in automation and robotics, and targeting high-growth segments and geographies, Piab's vision is to become the global leader in gripping and moving solutions.
For more information, please contact:
Mike Tuohey Regional Marketing Manager, Americas
Tel: 800 321 7422
E-mail: [email protected]