Desiccant Capsules offer 360 degree moisture protection. .
Press Release Summary: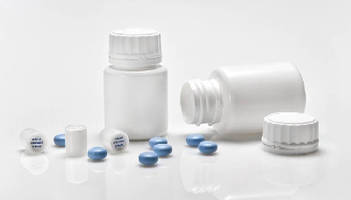 Available in 1, 2, and 2.5 g sizes, AdCap® combines advantages of conventional desiccant capsules and canisters and complies with global requirements for drug and patient safety. Capsules offer choice of filling materials, including silica gel, molecular sieve, and blends. High squeeze stability prevents desiccants from leaking, even under high pressure. Capsules not only adsorb moisture through cardboard disc on top, but also through grid structure on side of capsule.
---
Original Press Release:

New AdCap® Desiccant Capsules from Sanner



The highest patient safety and 360 degree moisture protection for pharmaceuticals and food supplements



Bensheim, Germany, – With the new AdCap® product family, Sanner GmbH, a manufacturer of high-quality plastic packaging for pharmaceutical, medical and healthcare products, offers a 360 degree solution for the highest moisture protection within the package. AdCap® combines the advantages of conventional desiccant capsules and canisters, and ensures optimal moisture adsorption and exceptional stability. AdCap® is easy to handle, universally applicable and complies with global requirements for drug and patient safety.



The new AdCap® product family consists of drop-in desiccant capsules for the protection of moisture-sensitive products. They are best suited for solid pharmaceuticals such as tablets and capsules, as well as food supplements. AdCap® is the consistent further development of the predecessor "360° Capsule" from Sanner. "During our strategic realignment, we placed an even stronger focus on one of our core competencies – the product category Pharma Desiccant Packaging. This already brought forth the new AdPack® desiccant pillow packs. Now we have enhanced the development of our desiccant capsules and established the AdCap® product family," explains Sanner CEO Holger Frank.



360 degree moisture protection with unique grid structure

AdCap® is available in three different sizes: apart from the proven one gram version, Sanner now also offers the desiccant capsules with fillings of two and 2.5 grams. The choice of filling materials has also been extended: AdCap® is available with silica gel, molecular sieve and blends. AdCap® combines the advantages of conventional capsules and canisters. The high squeeze stability prevents desiccants from leaking, even under high pressure. At the same time, AdCap® offers effective all-round moisture protection.



The desiccant capsules not only adsorb moisture through a cardboard disc on the top, but also through a unique grid structure on the side of the capsule. even when the capsule is lying on the cardboard side, this ensures moisture adsorption without losing effectiveness after filling within the container – regardless of the capsule's position inside the package. Moreover, the distinct design of AdCap® offers the highest patient safety, as its unique grid structure eliminates potential confusion with capsules or tablets, and prevents accidental ingestion. Additionally, the good printing quality increases the readability of the safety instructions.



Cost-efficient product integration

AdCap® desiccant capsules are suited for application all around the world. Because they are dimensioned according to market standards, the capsules are cost-efficient and compatible with standard dispensing equipment and filling lines. AdCap® is delivered in easy-to-handle quantities in aluminum bags. This entails a lower weight and less residue per packaging unit. The desiccants ensure a dust-free application. AdCap® complies with all relevant European and FDA (Food and Drug Administration) regulations for contact with food and drugs. The products are also listed in a Type III Drug Master File (DMF).



AdCap® was presented for the first time at CPhI Worldwide in Paris in October 2014. Visitors to CPhI India will have the possibility to see the desiccant capsules at Stand V87, Bombay Convention and Exhibition Centre, from 2 to 4 December 2014.



Sanner profile

Based in Bensheim, Germany, Sanner GmbH was founded in 1894 and is now in its fourth generation as a family-owned enterprise. Sanner develops and produces high-quality plastic packaging and components for pharmaceutical, medical and healthcare products. The world's leading manufacturer of desiccant caps, Sanner produces two billion plastic parts each year for standard and customized packaging solutions. With 500 employees in Germany, China, Indonesia, India, Hungary and the U.S., the company generated annual sales of 55.5 million Euros in 2013. Further information on Sanner is available on the Internet: www.sanner-group.com.



Media contact

Communication Harmonists GmbH & Co. KG

Annette Crowther

Poststraße 48

69115 Heidelberg

Germany

Tel. +49 (0)6221 58609-18

Fax +49 (0)6221 58609-11

sanner@commha.de







More from Packaging Products & Equipment