Dematic Mobile Automation Solutions at MODEX Efficient, Ergonomic, Economical AGVs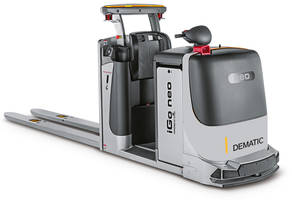 GRAND RAPIDS, MICHIGAN – February 20, 2018 – Dematic, a leading global supplier of integrated automated technology, software and services to optimize the supply chain, will feature its latest automated guided vehicles (AGVs) as part of its complete line of mobile automation solutions at MODEX 2018, April 9–12 in Atlanta, Georgia.
The iGo Neo is the first of its kind in the industry: a dual-use AGV that operates as both a traditional walkie-rider machine and as an AGV for efficient, ergonomic and economical automated mixed case picking. As an AGV, the iGo Neo automatically follows alongside the picking operator at all times during the picking/putting cycle. It eliminates the time-consuming actions of getting on and off the machine and walking with product over distance during picking.
The Dematic booth at MODEX will also feature a Compact Tugger AGV, part of the Dematic Compact line of mid-sized mobile automation solutions. Designed from the ground up to be a smaller, lower-cost option to a full-size AGV, Compact AGVs are the right solution for automated transport between locations. Available as a counterbalance fork, straddle fork, tugger or deck vehicle, the Compact family provides a fast ROI for companies looking to upgrade their material handling systems in distribution centers and production facilities.
"Dematic AGVs are fully mobile robots that can move and transport items within production, warehouse and distribution environments," said Tom Kaminski, Vice President of Mobile Automation for Dematic. "Our complete line of mobile automation provides reliable, autonomous solutions where space is at a premium, flexibility is critical and operational efficiency is an imperative."
Visit Dematic at MODEX 2018, booth #3047, April 9–12 in Atlanta, Georgia. For more information, please visit Dematic.com or contact Cheryl Falk at Cheryl.Falk@dematic.com or 262-860-6715.
About Dematic
Dematic is a leading supplier of integrated automated technology, software and services to optimize the supply chain. Dematic employs over 6,000 skilled logistics professionals to serve its customers globally, with engineering centers and manufacturing facilities located around the world. Dematic is one brand under the KION Group of companies and has implemented more than 6,000 integrated systems for a customer base that includes small, medium and large companies doing business in a variety of market sectors.
Headquartered in Grand Rapids, Michigan, Dematic is a member of KION Group, a global leader in industrial trucks, related services and supply chain solutions. Across more than 100 countries worldwide, the KION Group designs, builds and supports logistics solutions that optimize material and information flow within factories, warehouses and distribution centers. The company is the largest manufacturer of industrial trucks in Europe, the second-largest producer of forklifts globally and a leading provider of warehouse automation
More from Mechanical Components and Assemblies