Dematic Introduces High Density Storage Solutions to Reduce Cost, Increase Warehouse Efficiencies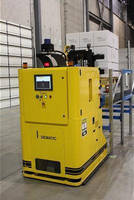 Three Configuration Options Automate Conventional Storage Functions

GRAND RAPIDS, MICHIGAN - Dematic, a global supplier of logistics systems for the factory, warehouse and distribution center, has introduced a set of warehouse solutions for high density pallet storage. Each solution is engineered to support production and distribution operations that need an effective way to receive, store, and ship full or mixed case pallet loads. The solutions have these attributes: high density, compact, accurate, real time, and automatic. This means lower operating costs, reduced building/land costs, precise load sequencing, FIFO/LIFO rotation or whatever business rules apply, improved order accuracy, real time control of inventory, and less labor to operate. There are three solution categories.

Deep lane pallet storage on floor, with AGVs - This configuration is based on a fork style automatic guided vehicle (AGV) that is capable of automatically staging pallet loads on the warehouse floor, arranged in lanes, multiple pallets deep. In addition, the pallets can be stacked up to 24 feet high, in each deep lane. Features of the AGV include a periscope design to move the laser head above load obstructions and adjustable forks for precision control for depositing and picking pallets.

Deep lane pallet storage in rack, with AGVs - This configuration consists of deep lane pallet storage in a rack structure with Dematic's satellite shuttle device to index each pallet in the rack. A fork style automatic guided vehicle (AGV) transports pallets to the deep lane rack structure up to 40' clear height and deposits the load in the first rack position. From there the satellite shuttle device lifts, transports, and positions the pallet in the deep lane rack.

Deep lane pallet storage in rack, with SRM - Utilizing Dematic's shuttle device and software management, the deep land pallet storage rack with Dematic's shuttle device to index each pallet in the rack can also be configured with a storage and retrieval machine (SRM). This solution, with dedicated SRMs in each aisle, improves the density and throughput versus the AGV based solution. Aisle widths can be minimized and the height of the rack structure can be increased to 110'. The SRM accesses loads on both sides of the rack aisle structure using the deep lane shuttle. Typical applications are 5-10 pallet levels high with multiple aisles of storage located in an existing conventional building or a rack supported structure. The pallet loads can be delivered to the rack structure pick up and drop off points using transport AGVs, carrier or fork style.

According to Scott Hinke, Manager of the AGVS Business Unit for Dematic, "Advanced pallet storage and staging solutions offer a compelling business case. In addition to space savings and reduced labor costs, these solutions have a positive impact on many of the issues associated with manually operated methods: product damage, rack damage, lost inventory, and real time monitoring. Furthermore, each solution is designed to be modular, flexible, and scalable in order to accommodate future changes in operational requirements."

The appropriate solution depends on the throughput volume, storage capacity requirements, and building layout. The deep lane floor storage configuration is ideal for low volume and smaller storage capacity applications with temporary pallet staging requirements where an AGV provides transportation as well as pallet staging functions. The deep lane satellite configuration is ideal for medium throughput applications with non-stackable pallets, and appropriate for storage applications with a lower number of SKUs. The deep lane storage with the SRM configuration is a higher throughput capacity solution that is typically configured with thousands of pallet storage locations.



Feature                            Benefit

Smaller system footprint           Reduced building and land costs

High density storage               Less cost to operate

Precise pallet flow                Supports pallet sequencing requirements

Reduction in staff                 Lower operating costs

FIFO, LIFO rotation                Accommodates business rules

Controlled access to inventory     Omit potential theft

Improved inventory control         Omit "lost in the warehouse" issues

Improved order accuracy            Customer goodwill

Computer controls                  Real-time monitoring

Reduced product damage             Lower operating costs

Fewer manual fork trucks required  Safer: omit damage to rack, facility and products



For more information:

Cheryl Falk

mail: falk@dematic.com

Tel: 262-860-6715

visit: http://www.dematic.com/na/agv-systems

Dematic at PROMAT
Booth #1203

January 21-24, 2013

Chicago, Illinois

About Dematic

Dematic is a global engineering company that provides a comprehensive range of intelligent warehouse logistics and materials handling solutions. With a global knowledge network of more than 4,000 skilled logistics professionals, Dematic is able to provide customers with a unique perspective in world-class materials handling solution design. Our commitment to solution development, combined with engineering centers and manufacturing plants in North America, Europe, and Asia Pacific, ensures Dematic has the range and capability to provide reliable, flexible, cost-effective solutions globally. Our successful track record has led to the development and implementation of more than 5,000 integrated systems for a customer base that includes small, medium, and large companies doing business in a variety of market sectors. Dematic generates a global business volume of approximately $1.3 billion.

Dematic (LogisticsResults@Dematic.com)

507 Plymouth NE

Grand Rapids, MI 49505

877-725-7500


More from Electronic Components & Devices