Automated Guided Vehicle Systems
Dematic Automated Guided Vehicle (AGV) Receives UL System Safety Certification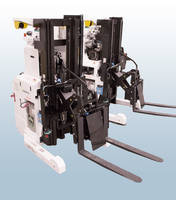 Company awarded first UL 3100 certification for AGV
GRAND RAPIDS, MICHIGAN – May 7, 2018 – Dematic, a leading global supplier of integrated automated technology, software and services to optimize the supply chain, is pleased to announce Dematic AGVs are the first to receive UL certification to the UL 3100 Standard. UL (Underwriters Laboratories) performs safety testing and certification on a variety of products, facilities, processes and systems worldwide. Its standards are recognized by industry, government and consumers as third-party certification of safer operation.
As a member of UL's Standards Technical Panel, Dematic participated in the development of UL 3100, a new safety standard specifically for AGVs. The requirements of UL 3100 call for a holistic system approach to evaluation, testing and certification to help ensure that the batteries, chargers and end products are protected against electric shock and fire. This includes evaluating and testing for enclosure strength, functional safety requirements, motor safety and protection against injury, performance and autonomous features.
"Developing UL 3100 is an important industry milestone for helping to ensure safer operation of AGVs," said Francisco Martinez, UL's global director of Energy Systems and e-Mobility. "UL looks forward to continuing to support AGV industry innovations to accelerate market confidence and ultimately AGV market growth."
"As a leader in the mobile automation industry, we are constantly looking for ways to ensure the safe, efficient operation of our AGVs," said Tom Kaminski, Vice President of Mobile Automation at Dematic. "Being able to work with UL as a member of UL's Standards Technical Panel to develop this new safety standard and to have a Dematic AGV awarded the first UL 3100 certification is an honor for us."
UL 3100 applies to three main types of AGVs:
Industrial truck-based AGVs such as rider-less industrial trucks
Load bearing service AGVs such as those used in a service industry, which are intended to carry small loads
Non-load bearing service AGVs such as product re-ordering AGVs that are used to drive up and down grocery store aisles and reorder products depleted from shelves
UL's vast experience and capabilities in evaluating and testing the safety of equipment and products helps Dematic achieve its goals and accelerates technological advancement in the industry. UL 3100 is expected to become a national consensus standard for AGVs by next year.
"Internally, this new UL 3100 certification provides an excellent methodology for us to better test our solutions," added Kaminski. "For our customers, it's another way to illustrate our commitment to AGV safety and to putting their interests first."
For more information about Dematic AGV solutions, visit dematic.com/agv or contact Cheryl Falk at Cheryl.Falk@dematic.com or 262-860-6715.
About Dematic
Dematic is a leading supplier of integrated automated technology, software and services to optimize the supply chain. Dematic employs over 6,000 skilled logistics professionals to serve its customers globally, with engineering centers and manufacturing facilities located around the world. Dematic is one brand under the KION Group of companies and has implemented more than 6,000 integrated systems for a customer base that includes small, medium and large companies doing business in a variety of market sectors.
Headquartered in Grand Rapids, Michigan, Dematic is a member of KION Group, a global leader in industrial trucks, related services and supply chain solutions. Across more than 100 countries worldwide, the KION Group designs, builds and supports logistics solutions that optimize material and information flow within factories, warehouses and distribution centers. The company is the largest manufacturer of industrial trucks in Europe, the second-largest producer of forklifts globally and a leading provider of warehouse automation.
Press Contact:
Cheryl Falk
Senior Vice President, Global Marketing Communications
Cheryl.Falk@dematic.com
(262) 860-6715