Delumper® Bagstation(TM)Compact Bag Dump and Product Conditioning System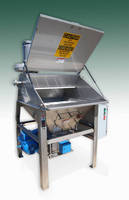 Compact Bag Dump and Product Conditioning System

The DELUMPER BAGSTATION is a pre-engineered bag dump system designed for unloading, de-agglomerating and freshening of lumpy bagged solids while efficiently introducing them into a production process. The unit is designed to facilitate convenient manual opening of small to medium sized bags without creating a dusty environment.

This convenient system incorporates a built-in DELUMPER® processor to reduce agglomerates and lumps and facilitate uniform product flow while the bags are being emptied. The BAGSTATION has a built-in dust filter system that draws the air through the unit grate and into the enclosed filter chamber. Filter media are periodically self-cleaned by a programmed air burst cycle.

The BAGSTATION features durable stainless steel construction, a grating platform for bags, discharge hopper, DELUMPER processor and control system. Units are provided in several optional configurations to fit specific applications including a compact model with low headroom.

The built-in DELUMPER Model 1077 quality unit is supplied with heavy stainless steel body construction, a 12 by 12 inch throat opening, smooth interior finish, 5 HP 230/460 v.3phase motor, individually replaceable teeth and more.

For more information contact: FRANKLIN MILLER, INC., 60 Okner Parkway, Livingston, NJ 07039. Tel: (973) 535-9200, Fax: (973) 535-6269, e-mail: info@franklinmiller.com, Web: www.franklinmiller.com.

More from Agricultural & Farming Products