Desiccants and Molecular Sieves (Adsorbents)
Deliquescent Desiccant enhances natural gas processing.
Press Release Summary: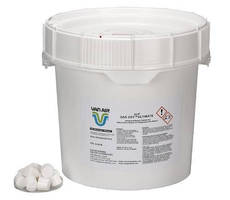 Developed for applications that involve processing of natural gas at low pressures, low flow rates, and/or low temperatures, 4UF/Gas Dry™ Ultimate is used to dry natural gas to low water content. Product, by providing moisture equilibrium down to 4% RH and working temperatures from below freezing to +80°F, meets low dew point requirements when other desiccants or glycols are ineffective. Dessicant can provide <7 lb moisture/MMSCF gas at temperatures below 32°F while operating at 15 psig.
---
Original Press Release:

Van Air Systems Introduces a New High Performance Deliquescent Desiccant 4UF/ Gas Dry(TM) Ultimate



LAKE CITY, Pa. -- Van Air Systems has been the leader in deliquescent tablet production for over 70 years and offers several well-known deliquescent desiccant tablets. Van Air Systems would like to introduce a new high performance deliquescent desiccant known as 4UF/Gas Dry™ Ultimate. It was developed specifically to meet low dew point requirements when other desiccants or glycols are ineffective. Natural gas can be very difficult to process at low pressures, low flow rates, and/or low temperatures. For these unique applications, use 4UF/ GasDry™ Ultimate to dry natural gas to low water content.



Gas Dry™ Ultimate/4UF has advantages over other drying methods in many applications. It will provide moisture equilibrium down to 4% RH and will work at temperatures from below freezing to 80 °F. It is capable of providing < 7 lbs moisture/MMSCF gas @ temperatures below 32 °F while operating at a very low 15 psig.



Van Air Systems new deliquescent desiccant 4UF/GasDry™ Ultimate is now available – call 800-840-9906 or visit http://www.vanairsystems.com/products_desiccants/4uf.html



About Van Air Systems:

Located in Lake City, Pennsylvania, Van Air Systems™, a division of Van Air Inc.™, is the original and leading manufacturer of tabletted absorbent desiccants for compressed air dehydration applications. Van Air Systems™ also specializes in the engineering and manufacturing of compressed air dryers, filters, and other air dehydration equipment. Van Air Systems has emerged as a leader in the compressed air dehydration industry by applying its technical experience and expertise acquired over the last 65 years. Van Air Systems offers various technologies to remove moisture from compressed air to ensure long lasting pneumatic equipment and ensure the best quality out of your processes.



Contact:

Tom Vignolini

Sales Manager

Van Air Systems – Van Gas Technologies

P: 800-840-9906

www.vanairsystems.com

More from Architectural & Civil Engineering Products