Delaware Metals adds Tube Flaring & Expanding Capability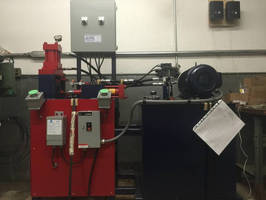 Here at Delaware Metals, located in Newport, DE, we have added a new Tube-End Forming Machine that enables us to expand and/or reduce the ends of tubing.  We can expand/reduce tube sizes ranging from ¼" to ¾" and can do flaring up to 1-¼" diameter and can do so in many types and grades of metal.  We recently did a project for a customer expanding one end of 30,000 pieces of 3/8" diameter stainless steel tubing so the new ID was a nice slip-fit on the OD of the same tubing.  This machine adds to our overall capabilities and we are committed to servicing our customers, both old and new, and continue to update our shop to meet their requirements.



About Delaware Metals:

In continuous operation since 1953, we specialize in precision CNC machining but we also provide one-off, prototyping, fabrication and assembly.  We work with many materials including metals and composite materials, servicing the aerospace, automotive, medical device, metrology, nuclear, and pharmaceutical industries.  We have the ability to help you with whatever your project may require.



Our consistent and steady growth at Delaware Metals is due to an unparalleled commitment to customer satisfaction, and backed up by our commitment to improvement, innovation, and quality craftsmanship. These are the basic tools in our quest to provide you, our customer, with the best quality products and service.  



We are always willing to expand our services to meet the needs of our customers.  We are ISO 9001:2008 Certified to meet the most stringent customer requirements.



For more information, please call 302-994-7444 or visit our website www.delawaremetals.com.





Related