Delaware Metal Adds a New CNC Lathe for Additional CNC Milling and CNC Turning Capacity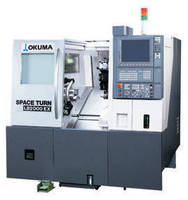 Delaware Metals, in Newport, DE, is pleased to announce another improvement to its capabilities, adding the new Okuma LB 3000 EX Turning Center to increase our machining capacity. This machine is known for its accuracy and versatility in machining and parts production. This machine is fast, has the highest milling performance, requires fewer tooling changes and uses less energy, providing fast delivery and accuracy for our customers.

See this new machine in action: http://www.youtube.com/watch?v=lJ_S1CzMsbw

Delaware Metals has been in business since 1953. We specialize in precision CNC machining as well as the prototyping, fabrication and assembly of metal and composite materials for aerospace, automotive, medical device, metrology, nuclear, and pharmaceutical applications. Our consistent quality is the result of having quality personnel dedicated to meeting our goals of serving the customer. We have the knowledge, experience, and skills to make your toughest designs a reality. Please visit our website www.delawaremetals.com or call 302-994-7444 for more information.


Related