Degausser complies with DOD requirements.
Press Release Summary: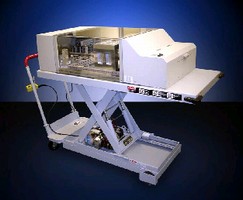 Mounted in transportable, variable-height work platform, Mag EraSURE(TM) ME-P3E degausses magnetically recorded data from hard disks and tapes with nominal coercivity up to 5,300 Oe and 2,600 Oe, respectively. Array of permanent, high-energy rare-earth magnets enables unit to fully erase data and timing information in one 40-sec cycle. Automatic unit includes built-in hand crank that allows manual operation when power is not available.
---
Original Press Release:

Automatic/Manual Degausser Permanently Removes Magnetic Data



WESTBORO, MA - The Mag EraSURE(TM) ME-P3E automatic degausser from Security Engineered Machinery (SEM) completely and permanently removes confidential or highly sensitive information from hard drives and other magnetic media. Listed on the NSA Approved Product List (NSA/CSS EPL-9-12A-C) and in compliance with DoD degaussing requirements, this unit also features a built-in hand crank that allows manual operation when power is not available.

Ideal for field operations as well as offices and data centers, the ME-P3E degausses magnetically recorded data from hard disks and tapes with nominal coercivity up to 5300 Oe and 2600 Oe, respectively. It accommodates floppy and removable magnetic disks and most desktop and notebook hard drives, including 1.8", 2.5", and 3.5" (1" and 1.6" high) HDDs and Rev drives, whether they are functioning or not. Tapes accommodated include ½" (type 3480), DLT, LTO, QIC, DAT, 8mm, TRAVAN, and AIT.

An array of permanent, high-energy rare-earth (NdFeB) magnets enables the ME-P3E to fully erase data and timing (servo) information in one quiet 40-second cycle. Because no heat is generated, the unit can be used continuously.

The ME-P3E is mounted on a transportable, ergonomic, variable-height work platform which provides an ample workspace and drive-storage area.

The unit is available in North America due to a joint effort by Yamagata Fujitsu Limited, a world leader in hard-drive technology, and SEM, the leading supplier of destruction equipment to the U.S. government for more than 35 years. SEM supplies every American embassy and most U.S. military, intelligence, and law enforcement agencies. The company's full-service engineering department designs products for business customers as well. There are more than 100 authorized SEM service centers worldwide.

For more information, contact Lisa Gauvin, Sales Manager, Security Engineered Machinery, PO Box 1045, Westboro, MA 01581, TEL: (508) 366-1488, FAX: (508) 366-6814,
e-mail: info@semshred.com, http://www.semshred.com/73

More from Communication Systems & Equipment