Degassing System removes gas-dissolved liquid.
Press Release Summary: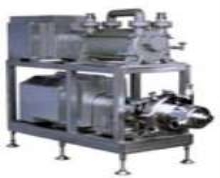 Utilizing degassing pump with interlocked vacuum pump, Series ASP includes multiple types of impellers that generate strong decompression and centrifugal force to continuously extract and separate dissolved gas from liquid. Since system degasses liquid mechanically without using chemical additives, it does not cause contamination. Models are available with bores from 25-40 mm, flow capacity from 0.01-0.06 ton/min and total head from 5-25 m.
---
Original Press Release:

New Degassing Equipment for Efficient Degassing of Liquid


Yokota Manufacturing Co, Japan, has launched a new type of degassing equipment ASP series for highly efficient and quick degassing of gas-dissolved liquid. Main part of this equipment is a degassing pump with novel structure patented in USA, UK, Japan, other. This degassing pump, with an interlocked vacuum pump, extracts and discharges even dissolved gas in liquid with extremely high efficiency. Its patented mechanism comprising an orifice and multiple types of impellers generates strong decompression and centrifugal force to continuously extract and separate the dissolved gas from the liquid. The separated gas is then drawn out by the vacuum pump. The outstanding degassing power is evident by the remarkable reduction of dissolved oxygen in water, for example, from a near 8ppm at the intake side to 0.5ppm or less at the outlet side. (Model ASP-0510, when processing water at 20 degree C at a flow rate of 25 litres/min. or less)

This equipment degasses liquid mechanically without using any chemical additive such as hydrazine. Therefore it is safe, does not cause contamination, and greatly reduces maintenance costs. Models are available with bores from 25 to 40mm, flow capacity from 0.01 to 0.06ton/min. and total head from 5 to 25m. Models that meet sanitary specifications are also available.

This degassing equipment is capable of performing a wide range of tasks in industrial applications including; supply of deoxidized water to prevent water pipes or boilers from rusting; deaeration of foods and beverages; production of ultra-pure water; degassing of gas-containing chemical liquid; degassing of liquid products before packaging to prevent overflow; deaeration of lubricants and hydraulic oil; deaeration of cleaning liquid to improve cleaning efficiency; and others.

Outstanding performance is also demonstrated in applications such as defoaming of various foaming liquids. By using this equipment, efficient defoaming can be achieved in continuous processing, and time required to eliminate bubbles is shortened, making it unnecessary to install a large tank for stabilization of liquid. Also, the stirring operation of the built-in impeller simultaneously provides favorable results such as liquid homogenization and reduced particle size. There are no clogging problems like that with membrane type equipment, and no troublesome maintenance is required. Moreover, with the self-priming and pressurized discharge capabilities, all processes including suction, stirring, defoaming and transfer of liquid are achieved in this single, compact equipment, unlike conventional methods which require installation of several components. Thus, use of this degassing equipment ASP series greatly reduces costs of liquid processing.

For more details, please refer to the product URL: http://www.aquadevice.com/english/03pump_asp1.htm

Contact: H.Tsuchiya - Overseas Dept.

Company Description:
Manufacturer of patented pumps, valves and fluid control equipment.

More from Mounting & Attaching Products