Deep Groove Ball Bearings reduce noise in electric motors.
Press Release Summary: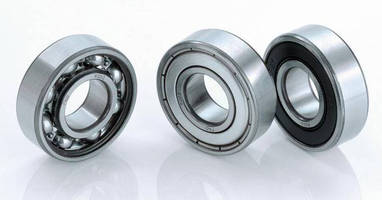 Generation C deep groove ball bearings have optimized raceway curvature between balls and rings, minimizing chance of misalignment between inner/outer ring. Operating in temperatures from -30 to +120°C, units offer minimal heat generation at high speeds as well as minimized noise and shock sensitivity. Bearings feature HRS seal with double lip geometry as well as axial contact between inner ring/seal, protecting them against contamination. They are available with 26-90 mm ODs.
---
Original Press Release:

New Deep Groove Ball Bearings for Electric Motors Provide Increased Efficiency and Reduced Noise



By optimising the contact geometry between the rolling elements and the ring raceways, Schaeffler's new 'Generation C' deep groove ball bearings are ideal for electric motors, providing 35% less friction and 50% less noise.

For designers of electric motors and for plant operators who use these motors, efficiency, noise and vibration levels of the motor are key design and quality criteria. The efficiency of small electric motors with low capacity - the type often found in electrical consumer goods such as washing machines, power tools and ventilators - is mostly determined by the power loss of the internal bearings.

The Schaeffler Group has therefore developed the 'Generation C' range of deep groove ball bearings, which not only offer 35 per cent less friction than its predecessor, but also cut noise levels by 50 per cent. This means a more efficient motor, resulting in reduced energy consumption. The new design improvements mean that the bearings can achieve higher running speeds (rpm), whilst simultaneously increasing the life of the bearing.

The bearings are therefore ideal for applications in which low noise and smooth running are critical. Reduced friction levels and improved energy efficiency from the bearings means a reduction in running costs for plant operators and a more efficient machine with extended maintenance intervals.

In order to reduce friction by 35 per cent, Schaeffler optimised the osculation (raceway curvature) between the balls and rings on the new bearings. This means there is less chance of misalignment between the inner and outer ring. As well as offering less friction, the bearings also generate less heat, making them suitable for higher running speeds.

Schaeffler also modified the seal on the bearings. The new novel HRS seal has modified double lip geometry and is made from nitrile butadiene rubber. These have been adjusted to match the recess on the bearing inner ring. Axial contact between the inner ring and the seal means more effective protection against contamination or loss of grease and less frictional torque. This results in longer grease life, increasing the life and reliability of the bearing and provides improved bearing performance at higher speeds (rpm).

Venting grooves have also been added in order to improve the run-in behaviour of the bearings. In addition to the HRS seal, the bearing shield has been modified. The recesses on the bearing rings and the shield geometry are functionally adjusted to each other in such a way that the sealing efficiency is improved and grease life increased. The new design creates an axial and radial labyrinth with the shield.

The improved guidance of the rolling elements also contributes to higher performance of the bearing. The new riveted steel cage, which replaces the previous steel 'ribbon' cage, offers higher rigidity and so is suitable for higher running speeds. The riveted steel cage also reduces noise levels and means the bearing is less sensitive to shock loads. The manufacturing tolerance of the bearings has also been increased (to P5 Abec 5 standards), ball roundness to G5 tolerances and improved surface finish.

The dimensions of the new bearings correspond to the previous bearing types, enabling easy replacement. Generation C bearings can operate in temperatures from -30°C up to +120°C.

The bearings are available with outside diameters from 26mm up to 90mm. Riveted steel cages are standard, although polyamide cages are optional. P6 or P5 tolerances can be specified on ordering. Sealing options include one or two gap seals; one or two lip seals; or low friction, non-contact labyrinth seals.

For more information on Schaeffler's 'Generation C' FAG deep groove ball bearings, please visit www.FAG-GenerationC.de or telephone the marketing department on 0121 351 3833.

With a total of 66,000 employees at over 180 locations around the globe and group sales of 8.9 billion euros (fiscal year 2008), the Schaeffler Group is one of the world's leading rolling bearing manufacturers and automotive component suppliers. The corporate group includes the INA Group with headquarters in Herzogenaurach, the FAG Group based in Schweinfurt as well as the LuK Group, with headquarters in Buhl.

Dean Palmer
Director
SilverBullet PR Ltd
Tel: 01780 753 000
Mobile: 07703 023 771
Email: dean@silverbulletpr.co.uk
www.silverbulletpr.co.uk

Schaeffler (UK) Ltd,
Forge Lane
Minworth
Sutton Coldfield
West Midlands B76 1AP
Tel: 0121 351 3833 Fax: 0121 351 7686
e-mail: info.uk@schaeffler.com
www.schaeffler.co.uk

More from Services